The Madison Senior Center is offering free trishaw rides on Monday as part of a demonstration of their partnership with Cycling Without Age. The partnership will introduce free volunteer-driven rides to local nursing home residents and the public.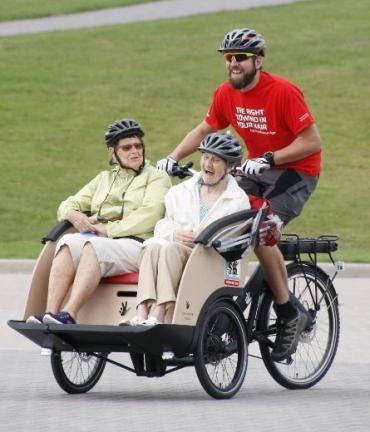 The two-hour event occurs during National Senior Center Month, the theme of which is "Building Momentum: Growing - Learning - Giving - Connecting."
A trishaw, like a rickshaw, features the passengers in the front and a pilot behind them. The vehicle allows people with limited mobility opportunities to enjoy the outdoors, socialize and get from place to place. Madison's trishaw, co-owned by Oak Park Place and Cycling Without Age, is the city's first.
And, the partnership marks the first time the service has been offered to the public. Half the time, Oak Park Place will utilize the trishaw for its residents. The trishaw will be available for public use through Cycling Without Age the other half.
Laura Hunt, program coordinator for the Madison Senior Center, said isolation is a detrimental mental and physical health problem for older adults, which Cycling Without Age works to combat.
"This type of experience gives people the chance to get out and experience the outdoors," Hunt said. "They're leaving their apartment or wherever they live. They're interacting with other people, and [getting] the benefits of being out in the fresh air, seeing people and being able to wave at people."
Monday's event starts at 10:00 a.m. and runs until 2:00 p.m. There will be a presentation and demonstration of the trishaw, followed by volunteer-driven rides..
Hunt hopes the demonstration will generate enough interest in the program to garner funds needed to purchase more public trishaws and cultivate a strong volunteer base to pilot them.