Madison and Dane County were deluged by record-breaking rainfall in late August which resulted in flooding that caused damage estimated at more than $150 million, including hundreds of totaled vehicles. Since then, many residents have been forced to replace their cars.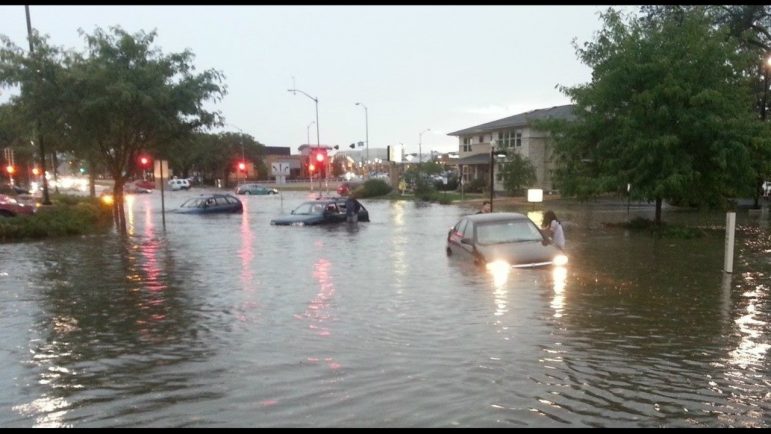 According to the NOAA National Centers for Environmental Information, Wisconsin has seen an increase in the frequency and severity of heavy rainfall events, a trend that is expected to continue in the coming decades. The trend toward heavier rainfall is driven in part by increased concentrations of greenhouse gases in the atmosphere, to which transportation emissions are a major contributor.
Yet, for Madisonians replacing flood-totaled vehicles, emissions-reducing considerations like fuel efficiency and fuel type (electric, hybrid, etc.) are often of minor concern.
Regardless of whether consumers are conscious of the relationship between vehicle emissions and extreme weather, for individuals, practical factors like budgetary constraints, functionality needs, and a desire to replace damaged cars with similar ones may be more important.
Nancy Wong, a professor in the School of Human Ecology at the University of Wisconsin–Madison whose research focuses on consumer behavior, including sustainable consumption, suggests that even if consumers are climate-conscious there are other factors that affect purchasing decisions, including pre-existing-beliefs, costs, and availability.
When deciding what replacement vehicle to purchase, a person's pre-existing beliefs play a key role in determining whether a consumer will invest in an environmentally-friendly vehicle after a natural disaster.
"I think, first of all, people have got to see that there is a connection between say climate change to the weather disaster that they face whether it is flooding or fires," Wong said. "People need to be willing to say that these environmental disasters were a result of climate change."
Some Madison residents say they see a connection between the August floods and climate change, while others do not. Other changes, such as development of receiving wetlands and an increasingly asphalt-covered landscape, also play a role in increasing the severity of floods. While consumers have different opinions about climate change, some say they still value "greenness" and place emphasis on fuel efficiency for other reasons, such as economy.
Aphra and Adam Mednick lost two vehicles in the August flood event on the west side of Madison. The Mednicks see a connection between climate change and the record floods in Madison, though they believe other factors contributed to exacerbating the damage locally.
"Without a doubt, to me this is a direct result of climate change," said Aphra Mednick.
The Mednicks, who have two young children, needed to replace their vehicles quickly, and bought used Hondas similar to the ones they had lost. The Mednicks say that the rapidity with which they needed to replace their cars did not allow for deliberation on purchasing vehicles with lower emissions, such as electric or hybrid vehicles.
"I think we've been concerned that because of climate change that we're going to have more problems, but…in the last [few] months, it hasn't really changed our consumer behavior," said Adam Mednick, who also drafted a letter to the city engineer, detailing infrastructure upgrades that would reduce the flood risk on their street.
Adam Mednick's brother-in-law, Russell Simmons, lost a car in Madison during an earlier flood in June. He replaced that vehicle, a Honda sedan, with a Tesla, an electric vehicle. However, Simmons was on the Tesla waiting list prior to the flood, so his decision to purchase a zero-emissions vehicle was not a result of the flooding.
Matt McGinn, a neighbor of the Mednicks who lost four vehicles due to flooding in 2018, says he sees climate change as a political issue, and placed emphasis on other factors, like infrastructure changes and wetland development, which have reduced the ability of streets to shed water.
"Just because I don't believe in man-made climate change doesn't mean I'm not aware that there's a footprint that we leave" McGinn said. "I want to have good gas mileage and take that into consideration."
One of the vehicles McGinn lost was a Ford F-250 diesel truck, which McGinn said had excellent gas mileage for a truck. McGinn did not replace it due to high cost.
Helen Apel, another neighbor, said she had not connected climate change and extreme weather. Apel and her family lost two vehicles, a Mini Cooper and a GMC Yukon, during the August storm. The Apels combined their insurance claim to buy a single vehicle, a Dodge Durango. Apel said multiple factors went into the decision on which replacement vehicle to buy.
"[We] looked at consumer reports and tried to find a vehicle that was good on gas mileage that would replace the truck," Apel said. "We were replacing those two vehicles down to one and needed something that was functional for hauling the trailer and for our family."
Even though consumers like the Mednicks, McGinn and Apel were directly impacted by the record flooding in August, their actions afterward tended to reflect personal priorities, rather than environmental concerns.
However, the results tended to be "greener" regardless: owning fewer vehicles (McGinn, Apel), buying used cars (Mednicks), and replacing gas-powered vehicles with electric ones (Simmons) are all ways to have a smaller impact.
Mark Latif, a sales manager for Rosen Nissan, one of few electric car dealers in Dane County, said his company experienced an increase in sales following the flooding, but said the increase did not disproportionately affect electric cars. Latif also said that customers he spoke with after the flooding did not mention environmental considerations as a contributing factor in their post-flood decision making.
Nevertheless, Dane County as a whole continues to move toward a lower cumulative carbon footprint from transportation. Dane County leads the state in both electric and hybrid car registrations per capita, and Madison recently adopted a carbon neutral resolution. Statewide, electric car sales have tripled over the last three years, and continue to grow, according to the Wisconsin Department of Transportation.