FreeWheel Bikes was founded in 2003 by a group of local cyclists who wanted to establish an affordable community workshop space and promote cycling. In the 15 years that it has existed, the non-profit has given away more than 10,000 bikes.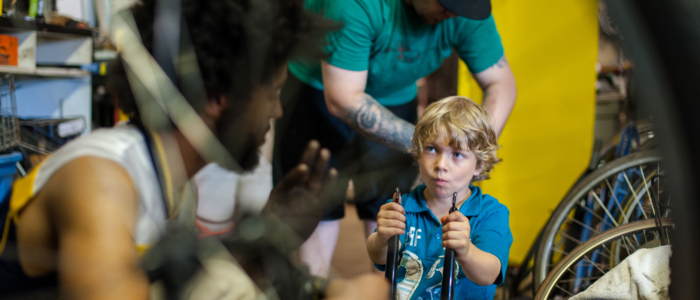 "Half of these are locally and the other half are through our work with international organizations that ship bikes to developing countries," said Elijah McCloskey, president of FreeWheel.
McCloskey, 30, said the goal of the organization is to ensure transportation as a fundamental human right, to reduce waste and increase education. The non-profit does this through giving away over 1,200 bikes a year, diverting over 35 tons of waste a year and teaching free classes to over 800 students a year.
When he was 16, McCloskey was homeless for about a year and a half. He showed up to one of the workshops that FreeWheel Bikes offers and built a bike with the assistance of the people there. The bike allowed him to move around and get to job interviews and find one, after which he was eventually able to find a place to live. McCloskey then went to school and succeed there, graduating with a a degree in Business Management from the University of Wisconsin-Madison.
"I started getting involved with FreeWheel in a way to give back and to pass the buck on forward, you know, to pay it forward for other people, just because I got to know really personally how transportation access can really positively and fundamentally change peoples lives," said McCloskey.
He joined FreeWheel Bikes 13 years ago and became president eight years ago.
The non-profit works in partnership with the Jail Diversion Program, helping ex-convicts with low cost, reliable transportation and bicycle maintenance education that allows these individuals to become positive members of the community.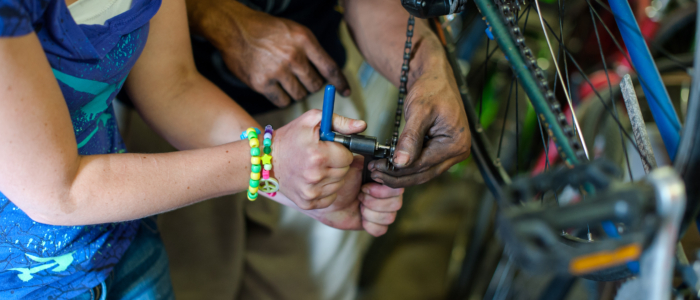 "We work with a number of people who are on supervision, many people over the years and that's been really rewarding," McCloskey said. "It is really important for people to be a part of their community rather than to be separated away. You want people to be productive members of society and transportation access really helps with that."
FreeWheel Bikes believes that transportation is a fundamental human right, regardless of employment or how much money a person has. According to McCloskey that was the driving factor for the non-profit to be created. In the beginning the organization worked on numerous ideas, from biodiesel refining to creating a bicycle workshop.
"It was like this space to try a lot of different ideas, and some of them worked out and other ones didn't, but that transportation as a fundamental human right has always been core to the organization and how we measure our success," McCloskey said.
Recently, FreeWheel Bikes has been picked as one of the top three non-profit organizations for 2018 by the eBay Shine Awards for Small Businesses, a program created to recognize and celebrate the best and brightest in the eBay selling community.
Over half of FreeWheel's revenue comes from eBay sales, of rare and hard to find parts and collectibles.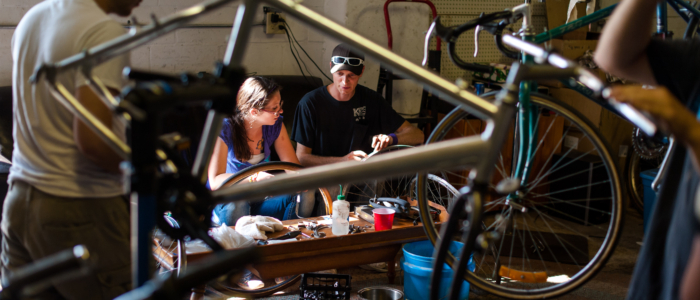 "We have some of the widest selection of vintage top-level parts in the state of Wisconsin," McCloskey said.
The non-profit has four workshops a week in peak season, roughly six months in summer, and all of the instruction is available free of charge. In addition, FreeWheel has many free options for bicycles for those in need. About 600-700 bikes a year are given away just locally with about the same amount given away to their international partnerships.
The available workshops include Women and Gender nonconformist classes on Tuesdays that teach bike repair in four-parts, in which people are learn the basics for intermediate level bicycle services techniques. Wednesdays offer the same type of class but it is open for the general public.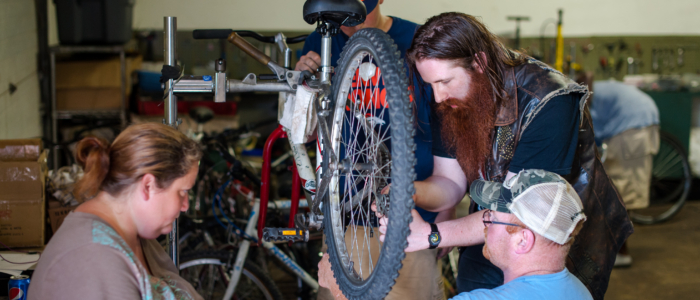 Saturday offers an open shop, where people can come in and use the workshop space with limited instruction. And Sunday is the Build-A-Bike workshop, where they focus on building up a bike either from a frame-up or taking a bicycle that is heavily damaged and needs a lot of services and then completely overhauling it.
"So rather than dealing with a bike that needs only a minor adjustment to the brakes or the shifting, or something like that, the Sunday class is very focused on taking something that's been sitting in a basement for three years and getting it back to a 100 percent. For taking a frame and finding all of the parts that are needed for that," McCloskey explained. "You can certainly come and choose to buy a project, or you can bring in a project you found on Craigslist, or a bike your dad gave you, or something like that."