Thirty-seven thousand Wisconsinites will be diagnosed with cancer this year. Gilda's Club Madison works to ensure none of them face their diagnoses alone. 
Gilda's Club is an affiliate of the Cancer Support Community, a global nonprofit that provides emotional, social and psychological support to those affected by cancer at no cost. 
At heart, Gilda's recognizes that cancer care requires more than just clinical solutions. The characteristic red doors of the organization's local clubhouse in Middleton are open to anyone whose life has been touched by cancer. Inside, visitors will find a network of dedicated professionals working in a place that feels like home. 
The nonprofit is committed to keeping its services free and hosts three major fundraising events each year. On Oct. 1, about 700 people participated in Gilda's Run/Walk event, which raised $80,000. Putting feet to pavement, the community spoke up for Gilda's mission and its members.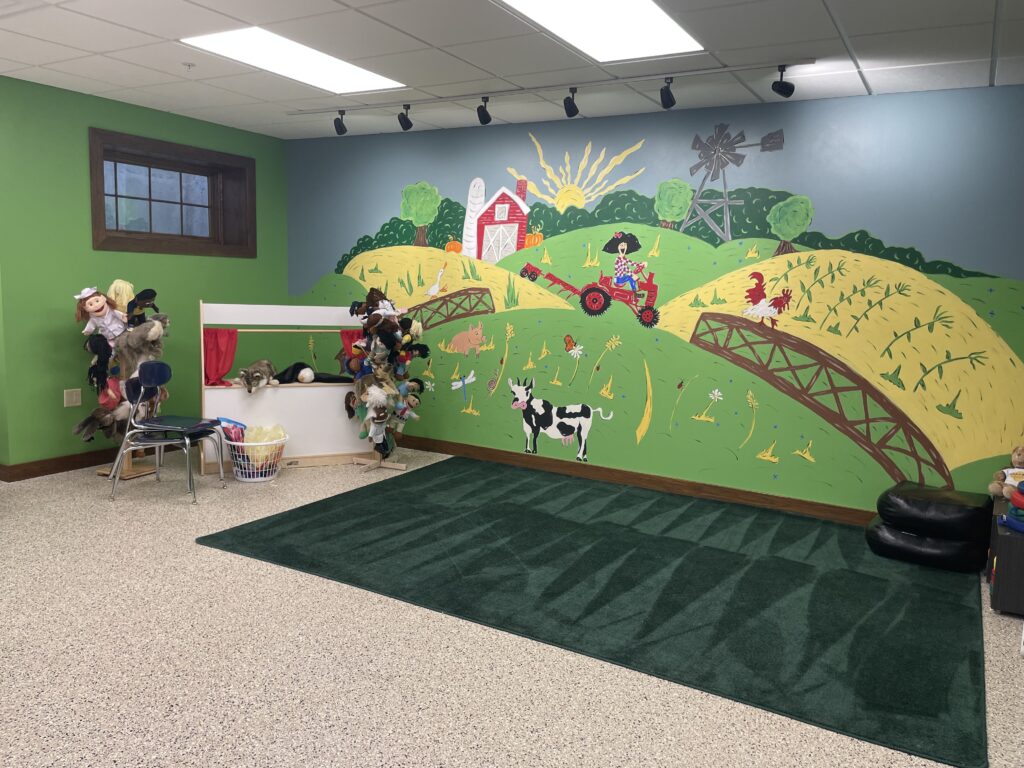 Many members are cancer patients, but others are the family, friends and parents of patients. According to executive director and CEO Lannia Stenz, all of them have a place at Gilda's. 
"Gilda's Club is free for anyone who needs us. And that includes anyone with any kind of cancer at any stage and at any age," Stenz said. "Everyone's gonna know someone they love who's dealing with a cancer diagnosis … I want to be here for them when they need us."
Stenz referenced a body of research demonstrating that caring for both the physical and emotional well-being of patients improves quality of life and reduces cancer recurrences. She also referenced a clinical trial from 2008 finding that breast cancer patients receiving psychological care experienced better health outcomes. This research informs the foundation and mission of the clubhouse, she said.
The 15,000-square-foot clubhouse is located just a few minutes from the Beltline. The exterior, residential-like design of the structure betrays what's inside. From the reception area to the library, sitting room, staircase and kitchen, Gilda's is like one giant home. Bright colors and artwork decorate every wall. The space projects warmth and has welcomed more than 1,000 visitors this year alone. 
The idea of the clubhouse traces back to the 1980s. Comedian and "Saturday Night Live" personality Gilda Radner was diagnosed with ovarian cancer in 1986 and became an outspoken advocate for cancer support organizations. When she died in 1989, her husband, actor Gene Wilder, founded Gilda's Club in her name. The first affiliate opened in New York City. Its doors were painted red. 
Gilda's came to Wisconsin in 2002 and opened its first dedicated program center, Gilda's Club Madison, in 2008. 
Small support groups comprise the core of Gilda's services. Though facilitated by a mental health professional, the groups are primarily structured as peer-to-peer support. This form of support is a vital component of their service, Stenz explained.
The clubhouse also offers family dinners every Tuesday evening in its expansive dining room and hosts experts and physicians who share advances in treatments and advice on how to live life with cancer. Program director Kirsten Norslien explained that sometimes people just use the clubhouse as a safe space to work out or gather for coffee. Pleasant gathering spaces are everywhere at Gilda's.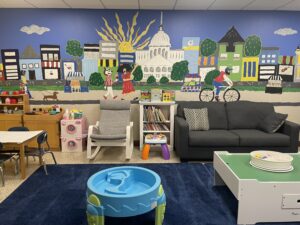 The backyard's basketball court and playground provide pity-free spaces for recreation. In the basement, members have access to a gym, multipurpose room and several kids areas, each one illuminated by a mural of a cartoon Gilda adventuring through a sea of primary colors. 
Norslien stepped into this world of color after spending an intensity-driven career leading groups through challenge and rope courses. When she was diagnosed with cancer, she had to step back.
"My full-time, all-year position became a part-time, seasonal one," Norslien said. 
She directed her energy elsewhere and earned a master's degree in counselor education. Norslien later found Gilda's. 
"Nothing like this existed when I was diagnosed, and I knew that that was a huge hole," she said. 
Norslien's been with Gilda's since 2008, when the Madison club opened, and Stenz will celebrate 12 years in December. For these two women, the words "future" and "Gilda's" are synonymous. 
"I will probably be here till retirement age if I can, unless they kick me out," Stenz comfortably declared from a wicker chair in a cozy corner of the clubhouse. 
Since Stenz took the reins, the fifth person to fill the role of executive director since Gilda's inception, she's seen the clubhouse through a rebranding controversy, a devastating flood and a pandemic that continues to challenge how Gilda's uses its space. 
Stenz is team-oriented and decisive, and it's her leadership that's seen them through, Norslien explained. Stenz knew her trajectory at 13 when she started working with kids at a day camp. 
"I decided very quickly that the kind of work I wanted to do was the kind that I saw happening at camp … The kids were going through a transformation," Stenz said. "And to me, that was pretty magical."
To Stenz, Gilda's is a place where people coping with cancer can rediscover their sense of self; it's a place both for tears and for laughter. It's a place filled with stories of resilience. One story Stenz clings to is that of a mother and previous member.
For this member, Gilda's was a judgment-free zone where she, her husband and her 3-year-old daughter could heal. When she later relapsed, she took comfort knowing Gilda's would be there for her daughter when she wouldn't be. 
The story that originally brought Stenz to Gilda's was her mother's. 
When Stenz's mother was diagnosed with pancreatic cancer, it was Stenz's job to keep her mother laughing. Stenz called with daily jokes until her mother died 18 months later. When she saw the job posting for Gilda's, an organization named for a comedian, she knew it was right. 
As Gilda's settles into a post-pandemic, hybrid world, Stenz plans to find creative ways to be sustainable, support a growing number of Wisconsinites seeking virtual care and, ultimately, keep the red doors at 7907 UW Health Ct. open for decades to come.