Last Sunday, the Dane County Humane Society, in partnership with the Monroe Street Merchants Association, hosted its fifth annual Dog Costume Parade, drawing dog families and their pooches to Monroe Street for the festivities. 
The fundraising event welcomed up to 40 participants to join the parade. Proceeds from each $15 dollar entry ticket went to support the DCHS. Participants were also given a gift bag full of treats and toys for their dogs to enjoy, courtesy of MadCat, the Madison-based chain of pet supply stores.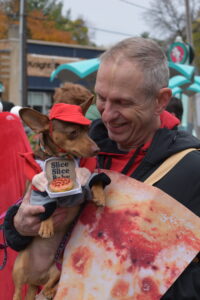 Despite the cold weather, the parking lot of the Monroe Street Chocolate Shoppe, where the event started, was packed with people and their dogs, many of them dressed in their best costumes. From a HomeGoods employee to a pizza delivery man, the costumes were as diverse as the dog breeds in attendance.
Carol "Orange" Shroeder, chair of the Monroe Streets Merchant Association and co-owner of Orange Tree Imports, was inspired to bring the event to Madison after seeing similar parades held in other cities. Shroeder, while a self-claimed cat person, said she really enjoys seeing the dog owners enjoying themselves, and that the dogs enjoy it too. 
"It's part of what Monroe Street does to give back to the community and show that we are really thrilled to be locally owned businesses," said Shroeder. "It's one of many events that we do all year long that brings customers to our area and also gives back to our customers." 
Free dog-themed face painting was available for adults and children, supplied by local artist Kinga Johnson of Radiant Smiles Face Painting. Special frozen treats were also offered for the dogs to enjoy. 
Participants and their pets walked the parade route through Wingra Park, ending at MadCat's shop on Knickerbocker Street, where they claimed their goody bags.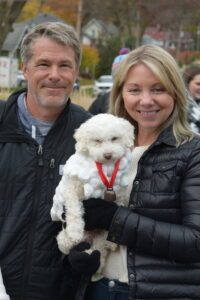 Many of these people and their animal companions come back year after year to connect with the local dog community, dress up with their pets and help raise money for the humane society. 
Shanna Wolf, a local dog owner, has been to every dog parade to date. "It's a great fundraiser for the Dane County Humane Society. And just to see everyone's creativity and be around dog people–it's great!" she said.
Other newcomers to the parade were happy to join the fun. Eleno Alfaro, and her dog Zoe, had only heard of the fundraising event this year. She said she was surprised to see the event was celebrating its fifth year, but that it will likely not be her last. 
"This is my first one," said Alfaro, "and this will definitely be an annual tradition going forward."