From our content partner, Madison365:
Imagine that your reality is having to fight for your existence every day. According to Dr. Bettina Love, that's no way to live.
And yet, she points out, it is literally how we force our youth of color to exist on a daily basis in our schools. In order to strive for Black Excellence, which over the past year has been a motto for Madison Metropolitan School District, Dr. Love says we have to see the excellence that is already there in children and properly identify the ways in which they already show they naturally have the core values and principles of learning schools strive to teach.
Love, an esteemed writer and educational researcher, fully kicked a hornet's nest on "Black Excellence" during a major rally of local educators at the Alliant Energy Center Monday morning.
With just one week left of summer, over 5,000 faculty, teachers, parents and students from across the Madison Metropolitan School District gathered for what has been an annual rally. But this year's felt different almost from the get-go.
The host of the rally, Nichelle Nichols, MMSD's director of equity, partnership and engagement, and YWCA CEO Vanessa McDowell (here in her capacity as the famed DJ Ace and doubling as a powerful speaker) got the rally started with rousing dance music and an engaging call-and-response with each school represented.
As people waved and swayed to the beats of DJ Ace it felt like a washing away of last year. That was the goal.
2018-19 was a racially tumultuous year in MMSD. In November a Hamilton Middle School teacher resigned after using a racial slur. By January, MMSD had removed an additional 7 district teachers (2 from West alone) for using racial language. And, by June, Madison365 was reporting that 8 teachers and substitutes had lost their jobs or resigned for using racial slurs in front of students. And those were just the incidents that made their way into the media.
In February, Whitehorse Middle School Dean of Students Robert Mueller-Owens violently pulled the hair and braids of an 11-year-old girl and threw her to the ground. The incident sparked community outrage and led to his resignation, as well.
It seemed like everything would come to a head month by month at the Board of Education meetings. Lines of speakers running, 80, 90, close to 100 people deep took to the podium to rain down torrid comments and exasperated feelings onto members of the School Board. In addition to the racial incidents and culture of whiteness that youth of colored faced at school, there was the issue of police patrolling the hallways. It went to the core of racial tension in MMSD as some in the community perceived that people like Mueller-Owens were able to avoid criminal charges and resign with dignity while police cited and ticketed black and brown youth for any small transgression.
By the end of the year, MMSD Superintendent Jennifer Cheatham had resigned, the Board of Education underwent a facelift with the additions of candidates of color like Ananda Mirilli and Ali Muldrow, and the scramble was on to make sure the 2019-20 school year would be different.
But the seeds of change are evident. The School Board appointed Savion Castro, a young black man, to be its 7th member. Castro represents the future of Madison's voice. There will be a new Superintendent named eventually and will potentially be equally reflective of a new generation and vision for Madison schools. And, by the end of this school year, the Board may have approval on a referendum that can bring schools like Madison East and LaFollette, with large student bodies of color, onto equal footing financially and technologically with other schools.
All of which brought us to where we are now on a dark, rainy Monday morning at the Alliant Energy Center.
One couldn't help but think of the Whitehorse incident as student performer Lilyana Sims from LaFollette did spoken-word poetry to a standing ovation. She talked about black girls' hair and the violation it is when white people comment about it, touch it, gape at it and twist its beauty. Her performance cut to the heart of issues black people, but especially young black girls, face around hair being the means of objectification of their blackness.
The rally's host, Nichelle Nichols, did not mince words. She did not allow there to be an elephant in the room.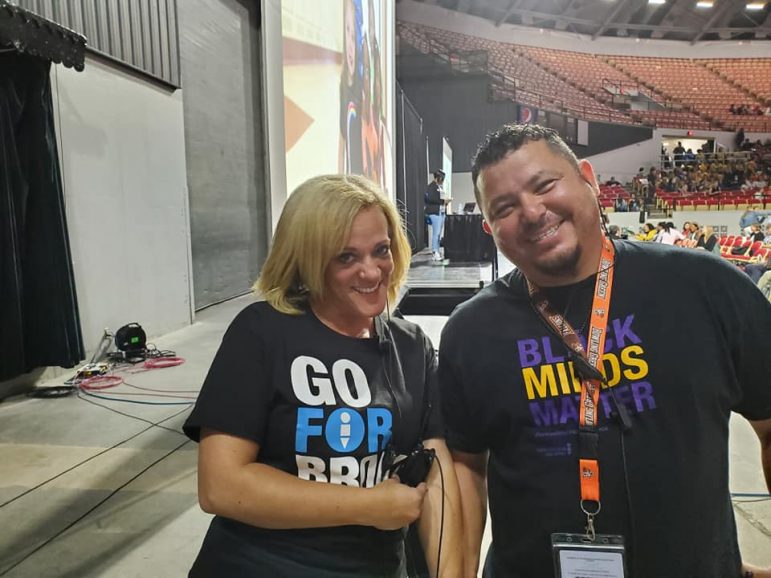 "We must be focused on the impact of racism," Nichols told the thousands in attendance. "How it shows up in MMSD as an institution and how it affects us on a personal level. We must come to terms, folks, that we operate in a system that privileges whiteness. I have to say this because we're all in this room together. Racial slurs of any kind cause emotional and psychological trauma and are an act of racial violence. And they will not be tolerated."
Love asked why Madison is trying to fix this thing at all.
"Build something better," she admonished. She spoke about abolitionist principles bing a vehicle through which we address racial issues in the community and the school system.
"Abolitionists put everything on the line and they did it for other people's children," Dr. Love said. "We did that as a country. How do we get back there today?"
Dr. Love said that black people have enough allies. What is needed are co-conspirators. People willing to use their white privilege to put themselves on the line. People willing to be uncomfortable, to sacrifice, to disband the whiteness suffocating children of color in schools.
She used pictures of beautiful, elegant braiding in a young girls' hair to demonstrate the excellence of black youth. She showed a cute video of a 3-year-old rapping to demonstrate the excellence of black youth. She said that black youth already have excellence. That black youth already demonstrate all of the things that people use as criteria for being a successful person.
Ultimately, Dr. Love warned that nothing triggers rage in white culture more than blackness with ambition, with drive, with purpose, with aspirations. That's the trigger of white rage according to Dr. Love. The problem is not with black people being here. They brought us here so that's not the problem, Dr. Love said. It's blackness with ambition that is the trigger.
"Whiteness does not like black excellence," Dr. Love said. "So, Madison, you're calling yourself a city that's gonna do black excellence? Look out!"
"Black excellence already exists," Dr. Love continued. "So, know their culture, know their history and understand. Black style is us constantly adjusting to them changing the rules. If we are gonna thrive, then we gotta fight. Imagine that your reality is having to fight for your existence. That's now way to live. Madison, you have to build something better. Why are we trying to fix this thing? Build something better. Schools should not mimic society. Schools should be better than society."