Hoping to encourage entrepreneurship and innovation in Madison, a group of local business leaders are bringing together systems and resources available to startups and early stage companies in the city.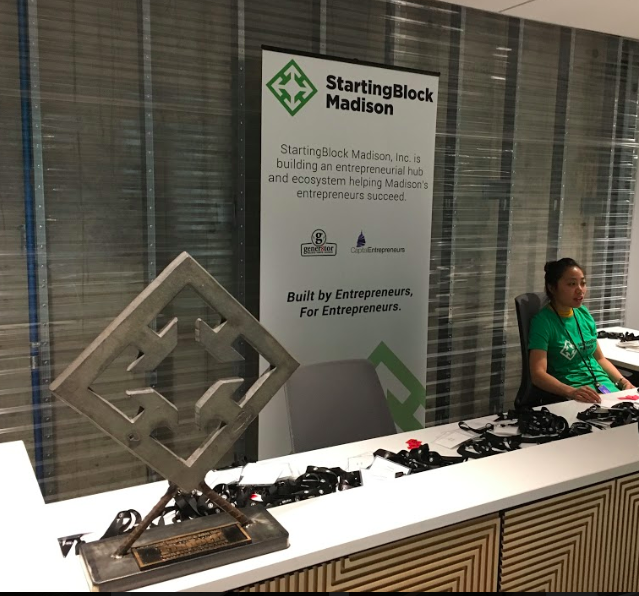 The result is StartingBlock, a new entrepreneurial hub designed to provide companies the resources they need to launch, grow and innovate.
StartingBlock, a non-profit operating out of The Spark building in downtown Madison, is the result of five years of planning and development by local entrepreneurs, including Troy Vosseller of Gener8tor, Scott Resnick of Capital Entrepreneurs, and Chandra Miller Fienen, who handles the day-to-day leadership at StartingBlock as the Director of Operations and Programming.
"One of the things that we're trying to do as a community is really make the resources that are available more transparent, more organized," Miller Fienen said. The founding team wanted to create in Madison "a single space that was built by entrepreneurs, for entrepreneurs."
The founding team evaluated entrepreneurship hubs in other cities, including 1871 in Chicago, 1776 in Washington, D.C. and MassChallenge in Boston. These organizations are designed to centralize resources for entrepreneurs and startup companies.
For example, Chicago's 1871, named for the period of growth and ingenuity experienced by the city after the Great Chicago Fire of 1871, leverages resources located in the city including eight university partners and multiple Chicago-based venture capital firms. StartingBlock hopes to serve a similar function for the Madison Community.
"We don't want to reinvent the wheel," said Israel Lopez, Esq., a Director on the StartingBlock Board of Directors. "We see what's successful and we try to emulate as much as we can."
Wisconsin has consistently ranked low on the Kaufmann Index, an annual report that evaluates states on new business creation, small business activity and growth of entrepreneurship. In 2017, Wisconsin ranked last in startup activity.
"We should be just as famous as Austin for entrepreneurship, or Denver," Miller-Fienen said. "We should be right in that mix, and I think that we have this opportunity to make cool things together."
Miller-Fienen, a "homegrown girl" who grew up in Madison, said that growth and innovation are "really part of the madison brand."
"Consider the fact that we have a world-class university here, and some of the innovations that are coming out of the university," Miller Fienen said. "This is something that, we've always had it, we just haven't necessarily leveraged it to get it up to that national level."
StartingBlock celebrated its soft opening on June 26 with its three original partner organizations: Vosseller's Gener8tor, Resnick's Capital Entrepreneurs and Doyenne, an organization that provides support to women entrepreneurs.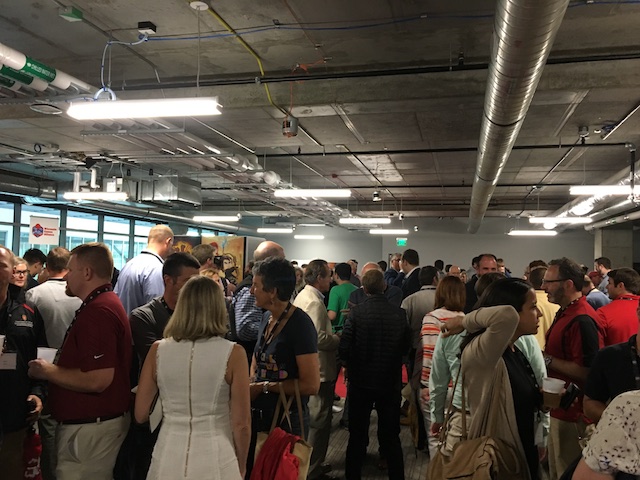 These partners first came together in late 2012 to discuss the idea of consolidating resources to spur growth and innovation.
"It's both a long time and been a long, dedicated project," Miller-Fienen said. "But it's also a short time, if you think about the breadth and ambition of what we're trying to do here."
StartingBlock's tenant companies include investment firms, software companies and early stage startups like ImageMoverMD, a medical imaging company, Markable, Inc., a fashion software company, and Bump Studios, and early-stage video game developer.
The Spark is an eight-story building in the Capital East corridor of Madison owned by American Family Insurance.