The Madison Food Policy Council's Pollinator Protection work group introduced a resolution to the Common Council last week allowing the creation of the Integrated Pest Management (IPM) Policy Review Task Force.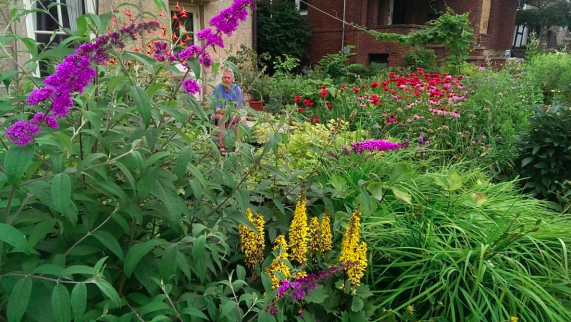 The task force will revisit policies on pesticides and integrated pest management. Their goal is to explore ways to eliminate or reduce pesticide use to improve the habitats of pollinators on city-owned land.
Currently, the resolution is being referred to five to six committees, and the Council is expected to adopt the resolution by July. If approved, the task force will convene and begin reviewing recommendations and then dismiss by early 2019.
Alder Ledell Zellers of District 2, an involved member of the Madison Food Policy Council (MFPC) and the MFPC's Pollinator Protection work group, said nine alders have already signed on to sponsor the resolution forming the new task force.
"I believe protecting pollinators and enhancing the environment to provide spring, summer and fall food options as well as other desirable habitat is important to a healthy city, state and nation," Zellers said.
The resolution for the IMP Policy Review Task Force stems from the Pollinator Protection Task Force, the first group established by the City of Madison in 2015 to address pollinator health using a detailed 40-page report.
"Part of this report suggests looking at ways the city uses pesticides and coming up with a holistic plan that realistically works for departmental staff to still be able to take care of noxious weeds designated by city ordinance. It strikes a need for balance with the protection of environment," Food Policy Coordinator George Reistad said.
A work group formed within the task force to promote pollinator health by implementing policies, educating the general public about pollinator decline, altering land management practices and fostering community partnerships.
The City of Madison is currently a Bee City USA affiliate, meaning it encourages awareness about the need for pollinators and aims to provide healthy habitats to pollinators. There are 66 certified Bee Cities in the U.S., including two others are in Wisconsin, Hales Corners and Mequon.
Another pollinator program Madison is involved with is the Mayor's Monarch Pledge  administered by National Wildlife Foundation to help save the monarch butterfly.
Reistad said that outside of environmental benefits, pollinators also serve as an economic necessity.
"Pollinators provide a true service, especially for agriculture and food products, they allow things to flourish and grow. There are places where the pollinators have died off and everything has to be hand pollinated, which increases the cost of agricultural products," Reistad said.
Corey Johnson, a member of the Dance County Beekeepers Association, said he was excited to see that the MFPC was creating a greater awareness of pollinators.
"The program is a great first step and if executed well can have a tremendous impact on local pollinator species—not just the honeybee but all pollinators. Much work is needed to get the word out as well as coordination with the city," Johnson said.
Reistad said the MFPC will continue looking for ways to promote public education and collaborate with other organizations like the UW Arboretum (https://arboretum.wisc.edu/), Dane County Environmental Council, and the Olbrich Botanical Gardens, linked to natural resources and pollinator well-being.