DEFOREST, Wis. — President Joe Biden came to the Madison area for the first time in his presidency Wednesday afternoon, visiting the LIUNA Training Center to speak about jobs for middle class workers after his State of the Union address Tuesday night. 
After a few words from Gov. Tony Evers, Mayor Satya Rhodes Conway and U.S. Rep. Mark Pocan, Sarah Vargas introduced the president. Vargas is an apprentice with LIUNA, which stands for Laborers' International Union of North America. 
"Last night I reported on the state of the union. And it is strong," Biden said. 
Biden centered his speech on what his administration is doing for the economy and middle class workers. He said it has created 12 million new jobs, 800,000 of which are in manufacturing. 
He emphasized the value of labor unions and blue-collar workers, saying they built the economy. At this, the crowd erupted in cheers. He said he is creating more jobs at home through U.S.-based companies. In Madison specifically, he mentioned the administration is buying 46 new electric buses to replace current diesel buses that are harmful to the environment. 
The federal government is also providing $128 million in funding for workforce development programs through the American Workforce Program. 
"Folks, I hate to disappoint them but my economic plan is working," Biden said. 
Biden also announced several changes he wants to make in the coming months. 
He said he wants to save taxpayer money by cutting unnecessary credit card fees through the Junk Fee Prevention Act. Additionally, 30 million hourly wage workers had to sign noncompete agreements this past year. Biden called to end those, arguing that they were a bad idea during his State of the Union speech.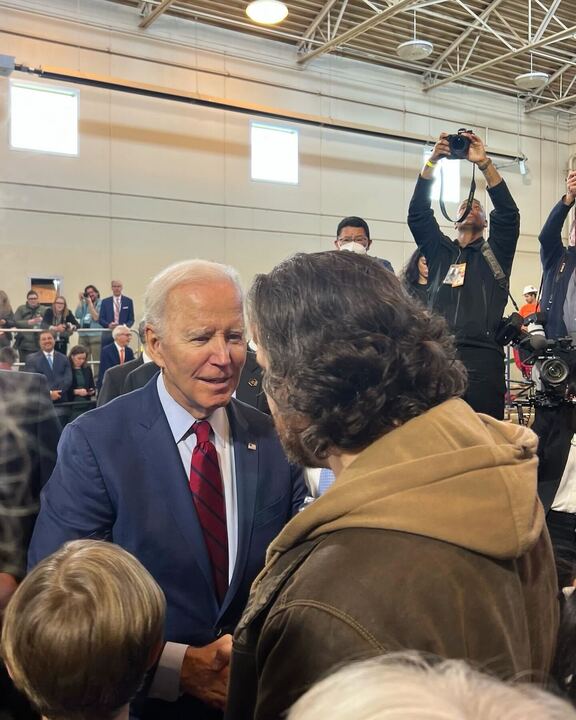 "Why in God's name do you have to tell a worker, an hourly worker, that they have to sign an agreement that they will not take a similar job anywhere in the area," Biden said. "Look, one of my objectives is to restore the dignity of work." 
Biden addressed Republican arguments on Medicare and the national debt. Republican U.S. Sen. Ron Johnson of Wisconsin has said Medicare should be up for reconsideration every year. The crowd booed at the mention of Johnson's name.

He said Medicare benefits belong to Americans and, "I will not allow anyone to cut it — not today, not tomorrow, not ever." 
Biden added that the national debt has come from 220 years of accumulation, from both Democratic and Republican administrations, and the nation's credit is good. 
"I have never, ever been more optimistic about America's future than I am today," he said.