Every 53 minutes, a gentle chime invites students into the hallways of East High School, where their principal, Michael Hernandez, stands to the side of one corridor and greets them.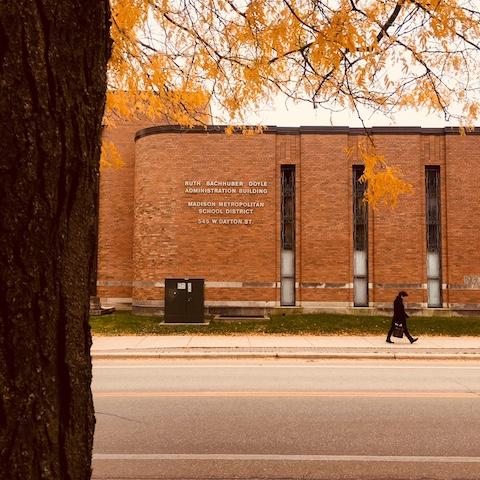 "Hey, did you get those credits to transfer," Hernandez asks one student and shakes the hand of another. He looks for one student in particular in order to spot a rare smile.
"I know a few students who walk down the hall because they know I'm going to joke around with them," Hernandez said. Students walk past "even if they don't have a class down that way, because they know someone is going to acknowledge them."
Hernandez is a stark contrast to the stereotype of the authoritarian school leader, but he represents a  change in Madison's schools. Hernandez stands in the hallway during transition times to build relationships with students, not to deter their behavior. He doesn't believe in an iron-fisted approach.
Balancing Justice and Discipline
Hernandez is practicing restorative justice, which is encapsulated in Madison Metropolitan School District's Behavior Education Plan.  A 2017 report described the BEP, as it is known, as a "progressive and restorative approach to behavior and discipline that is immersed in teaching and learning, as opposed to zero tolerance policies relying on punishment and exclusionary practices to correct misbehavior."
The BEP represents a district wide change in philosophy, one that was codified in 2013 and implemented in MMSD schools during that school year. Replacing a zero tolerance behavior policy, the BEP asks teachers and staff to proactively build relationships with students. When disruptions occur, teachers and staff are expected to use their rapport to determine why behavior expectations were not met, rather than reactively mete out punishments.
When consequences are necessary, staff look to the BEP's "tiered response levels" to help match consequences to behavior transgressions. The BEP offers teachers and staff five possible responses to behavior infraction. Depending on the severity of the infaction, a tiered response guides teachers and staff to an appropriate action.
"The BEP is necessary...A policy like BEP is one piece of the larger puzzle to create access and give kids a chance to be successful." Tony Dugas, the principal at O'Keeffe Middle School, said.
After nearly 20 years working as a principal in a variety of settings, Hernandez and other administrators, students, and staff are attempting to change their relationship to students; a goal  crystallized in the BEP's message:"We don't cast our students aside after they have made a mistake."
Hernandez's views on restorative justice are echoed by Dugas.
"The BEP is an equalizer," Dugas  said. "It pauses us to think truly about what do kids need. It gives kids a chance to not get kicked out of school. This policy is changing the way to think about how we support kids, not discipline kids."  
An End to Zero Tolerance
The logic behind MMSD's restorative justice program pushes back against zero-tolerance policies and the assumption that the best way to handle bad behavior is through punishment. But this assumption can be harmful to children whose young minds observe experience, but do not yet have the right filter to understand which lessons to absorb.
Zero tolerance policies are harmful to children, especially children with special needs and children of color.  Children with special needs and children of color are more likely to be suspended or to be singled out for punishment than children who are white children or children who are in general education children.  
MMSD is not the only school system which  struggles with racial disparities when it comes to behavior and discipline. The BEP was intended to address these disparities head on.
A growing number of school districts and charter schools are beginning to implement restorative justice policies. With any major policy transition, implementation and training matter.  Although MMSD offers training to staff about how to embrace the restorative approach, MMSD's report on the five year outcomes of the BEP show that disparities do still exist.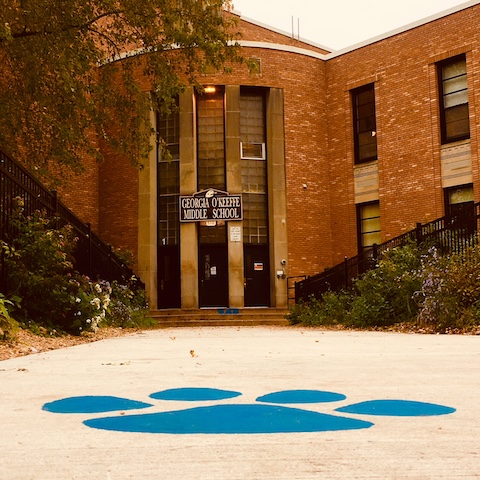 Madison high schools and middle schools in particular have been found to record and discipline behavior from students with special education needs and who identify as African American at far higher rates than their general education and white peers.
Rob Mueller-Owens, Positive Behavior Support Coach and Academic and Career Planning Coordinator at Whitehorse Middle School, suggests  these disparities continue because of misunderstandings by teachers and staff.
"The dominant culture lacks an understanding of how other cultures interact with each other," Mueller-Owens said. "Sometimes there are different ways of working together. And those differences allow for those disparities to exist. We need to work together more often. There is a lot of misunderstanding in Madison about diverse cultural ways of being."  
Innovating Practices in a Complex System
MMSD schools have become increasingly more diverse in the last twenty years. In 1991, the percentage of low-income students in the district was 21 percent. In 2017, that percentage was 50 percent. The percentage of students of color in 1991 was also 21 percent and grew to 57 percent in 2017.
These changing demographics inevitably create friction, as cultures clash over definitions of acceptable decorum and behavior. Misunderstandings and disagreements can overtake the ultimate goal of education, to learn about different perspectives.   
While the data on behavior is troubling, Mueller-Owens wants to use it to learn how to improve.  
"This is the first time we are tracking these disparities so we can change them," Mueller-Owns said. "Now we can't sweep it under the rug."
The 2017 MMSD report found that implementation of the plan's shift to restorative justice varied between schools. This is because the BEP doesn't ask teachers and staff to change their own practices as much as it asks them re-evaluate their own approach to handling an incident of misbehavior.
Eugenia Highland Granados, the YWCA's Restorative Justice Director and works  in six MMSD middle schools suggests that a change in perspective could help reduce disparities.
"Putting a restorative justice framework lens within punitive systems is challenging because it is not [only] about putting restorative justice in," Highland Granados said. What's also needed in MMSD is "getting rid of systems which counteract them."
But the old systems are hard to purge. Systems, both new and old, are more than just steps to follow; they represent values and common approaches. Changing ideas about how to respond to poor behavior means changing views on what causes behavior outbursts in the first place.
"The point is not that the tiered system is flawed or inherently inequitable," a former teacher, who requested anonymity because of the delicacy of the issue, said. "MMSD and [Dane County] don't need new behavior plans. The problem is that human beings exist in a world of inequity, and attempting to balance the scales of justice moment by moment, action by action, is difficult, if not impossible."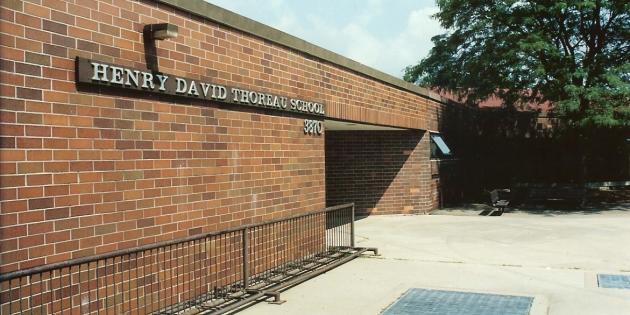 Instead, the best tactic to take is the one recommended by MMSD Restorative Practices Lead, Lonna Stolzfus, who says the work to fight that instinct takes time and intentionality.
Stolzfus said it is important to think "deeply about how to integrate this and engage in work of mindfulness...We are talking about a fundamental culture shift. The BEP is just what we are supposed to do, but what we are talking about is a collective and individual change that needs to happen."
Finding a Solution
Highland Granados reports that another part of the reason why these disparities still show up in behavior data is because restorative justice is fundamentally about relationships, and the "practice of relationship is not pretty or beautiful."
She says that too often, the BEP is viewed less as a holistic education plan, and merely as a discipline ladder.
"When I see that book [the BEP] pulled out of the desk and put on top of the desk, it is put on the page [asking] what is the level of punishment, and what consequence. It's never the first page where the philosophy of restorative justice practices are described."
In other words, she says, the system of implementation is wrong.
"There are automatic responses and biases in the way that we respond to behavior as society," Highland Granados said. The BEP "is really intense and countercultural work that should have its own value, and its own presence in our work and [The BEP] should not be connected to punishment. This is because punishment shows up as racist. The way we punish as a society shows racism. This is how punishment is used and it continues to show that historically. We need to do the intense work that needs to be done institutionally and personally."
Indeed, restorative justice challenges educators to rethink punishment and how to create a more inclusive education for all students.
"We were not working for black kids," said Stoltzfus,"so we haven't moved away from something that did work. We have a lot of work that we need to continue to do. Our society needs to work. We can't change systems without doing the internal work on our beliefs and values in society."
This is why, according to Mueller-Owens, the BEP "is right on point." Although he acknowledges the shortcomings of implementation, the BEP was adopted by MMSD as a way "to block the school to prison pipeline. The BEP comes from a heart of justice," Mueller-Owns said.
The BEP casts a long vision about what every school in the district can become; a place where students learn from their mistakes and where justice and discipline is about repairing what is broken.  
Staff in every middle and high school are individually working, as Dugas says "to be creative in how we help kids get access to their identity. We have to help them…It's a uphill battle. But a lot of people are helping."
*********************
Do you have a story to share about your experience implementing restorative justice in your classroom, or organization? We want to hear from you.
Below is the start of our storytelling project on restorative justice from our reporter Elizabeth Janeczko
*********************
The philosophy of restorative justice which pushes back against the instinct to mete out punishment to children who seem ungrateful and defiant can be hard, jarring, even. I know, because, as a former teacher, I too have felt it.
As high school teacher for ten years, in mostly in urban schools in Washington, DC, I worked in schools in communities of color in Washington, D.C., and recognized their suspension rates were too high. The last two years of my career, suspension was eliminated as a consequence for behavior. This left my colleagues and I no other option than to spend precious time orienting our classroom expectations and norms around relationships as much as we did around academics.
Sending kids "out" was frowned upon. Speaking with them in the hallway to ask about their choices was better.  Because of this, students learned to apologize for their actions, to make "on the spot fixes" and think about their actions as having an impact on other people.
But the sizzle of fury I felt when students left class without permission, or shouted at me, was easy to give in to when I was tired, or at the end of day. But adults, like the children we teach, must also make choices to demonstrate our compassion. Like Hernandez said about his students at East High, students will "intrinsically want to please the people they know care about them."
Many people assume the best way to control a classroom full of teenagers is to inspire fear. In the same way mothers spark fear with the words, "Just wait until your father comes home," teachers are often expected to threaten punishment as a deterrent.
However, this will only fracture relationships between teachers and students who could benefit most from healthy relationships with teachers. My own students were not afraid of me, but they did respect me because they knew I cared about them. When I told them how disappointed I was when they made poor choices, I often saw their shoulders slouch and their eyes batt away tears.
The desire to exert authority over young people can feel deeply natural. But it was never, in my ten years of teaching, the choice which resulted in long-term student growth.