Gretchen Underwood is a parent and a preschool teacher. Countless times, she's set up crafting projects for kids and her students, but now it's her turn to get crafty.
Revel, in the Parkside building on Hamilton Street in downtown Madison, brings meaning to the idea of a "craft bar" by featuring do-it-yourself projects for adults in a casual, social setting.
"Where else can you do anything like this?" Underwood said. "This is my cup of tea. I put things out for my students but I never get to create with them, so it's pretty exciting."
Walking in, you can get started right away with a project while you have a drink or snack from their featured menu. With 20 project options available, most anyone can find something to immerse themselves in their creative side, for a fee that depends on what project you choose.
The most popular project since the bar's inception has been string art. Patrons can choose between pre-nailed designs and begin to weave string between the nails to create their desired piece.
Another project that draws people is the customizable organizing tray. Beginning with a square or rectangle frame, you can fill in the bottom with glitter or any design of your choice then cover the whole affair with a layer of resin for a shiny finish.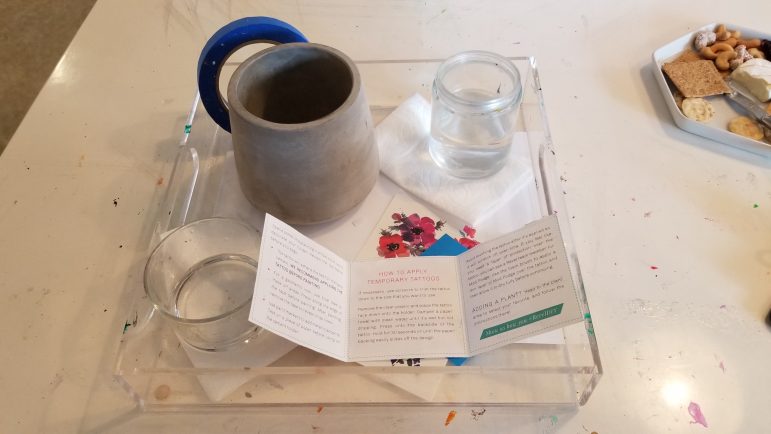 Sarah Van Dyke, owner of Revel, believes the string art and organizing tray projects are the most popular because they feature materials that are generally hard to get, let alone assemble.
"There are so many elements to [crafting]," Van Dyke said. "Being able to just have [the parts] sitting in front of you in this tray with instructions is very appealing."
Each project at Revel is presented with all of the necessary components as well as a neat, compact instruction booklet to guide you.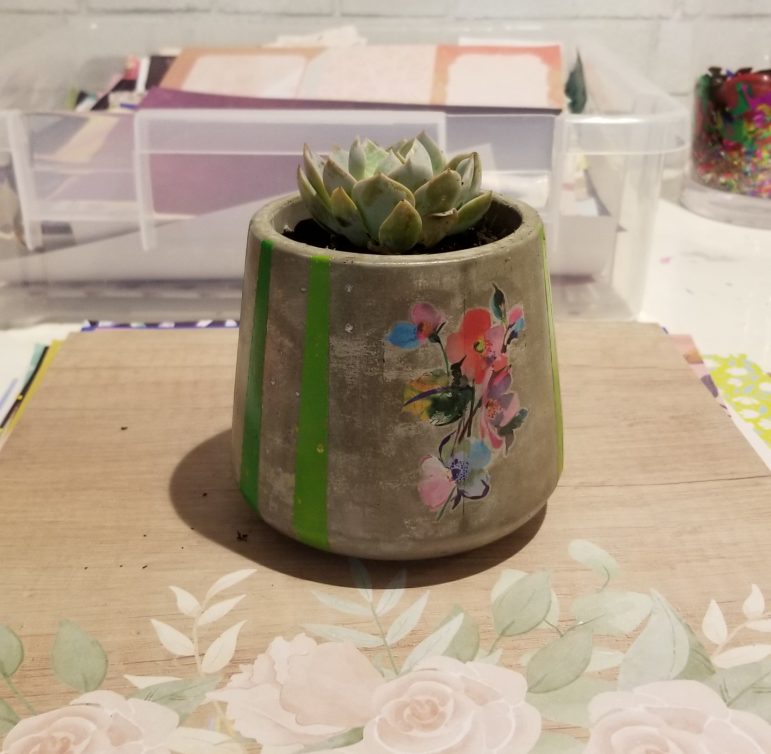 "There's really something to be said about the satisfaction you get about doing a project from start to finish," Van Dyke said.
Finished projects, some made by Van Dyke, line the walls as a clear example of what patrons can accomplish. The comforting and inspiring look of the entire shop mainly comes from her own aesthetic, but Van Dyke also received help from her sister and creative director in making it cohesive.
"We thought ... instead of a messy craft studio, what if it looked like a boutique or a gallery? So that was our starting point. Inevitably craft supplies are messy, but we try to sort of organize it so it is aesthetically pleasing," Van Dyke said.
Along with catering to visiting families and friends, the bar provides a venue for a variety of events from company work outings to bachelorette parties.
The novel nature of Revel is what draws some of the patrons to the location.
Kelly Wagoner, another visiting parent and string art novice, loves finding unique and interesting places to visit when she comes to a city and was excited to hear about Revel.
"I think it's really important to support local businesses," Wagoner said.
Van Dyke began to craft her idea of Revel three years ago with the intention of creating an experience-based business for adults.
"I started dreaming of what I would love to have exist in the world and I thought, I want to not be at a desk," she said. "I wanted to be interacting with people in a space that is a little more joyful than a row of cubicles."
After three years in business, Revel has collaborated with UW-Madison, featured pop-up locations in other cities, started an online retail shop selling crafting sets, and partnered with local nonprofits.
Only after opening Revel did Van Dyke begin to see other craft bars around the United States.
"I'm seeing them pop up now but it's good because, especially in Wisconsin, when you say craft bar, people immediately think about craft beer," she said. "I think that it's great if there are more around the country. It makes it more of a thing that people know to look for."
Van Dyke does not intend to expand outside of Madison soon because she wishes to take care of her daughter and she says people are finally starting to find her.
"If you're a student or a busy mom then you don't have time to schlep around to craft stores," she said. "Even scrolling through pinterest finding an idea for what you want to make is kind of overwhelming and takes the joy out of it so, we thought, how can we make this an easy and fun and joyful experience for people? And here we are."
Revel is open Wednesday from 4 PM - 9 PM, Friday from 7 PM - 10 PM, Saturday from 1 PM to 8 PM and Sunday from 1 PM to 4 PM.