A group of Wisconsin public educators, parents and students organized by the Wisconsin Public Education Network (WPEN) finished out a 60-mile march from Palmyra to the state capitol in Madison on June 25. Organizers intended the march, which included several rallies at schools along the four-day route, to demand that state legislators restore around $900 million in public education funding proposed by state governor Tony Evers to the state budget. 
"We were really thrilled with how many people showed up and how many people could adjust their lives on a Tuesday during the middle of the day to fight for public schools," Heather DuBois Bourenane, executive director of WPEN, told Madison Commons. 
About 50 participants in the march met early Tuesday morning at Patrick Marsh Middle School in Sun Prairie to finish out the last leg of the journey, stopping briefly at East High School in Madison to rally Madison-area participants before the last two miles up to the state capitol. They were joined by dozens more at a rally held in front of the capitol. 
Various public officials spoke at rallies in support of march participants along the way. Lieutenant Governor Mandela Barnes, State Treasurer Sarah Godlewski, Madison Metropolitan School District school board member Nicki Vander Meulen, and Milwaukee school board member Megan O'Halloran were among the many speakers throughout the four-day march. Rallies were held at schools in Palmyra, Hebron, Fort Atkinson, Cambridge, Deerfield, Marshall, Sun Prairie, and Madison.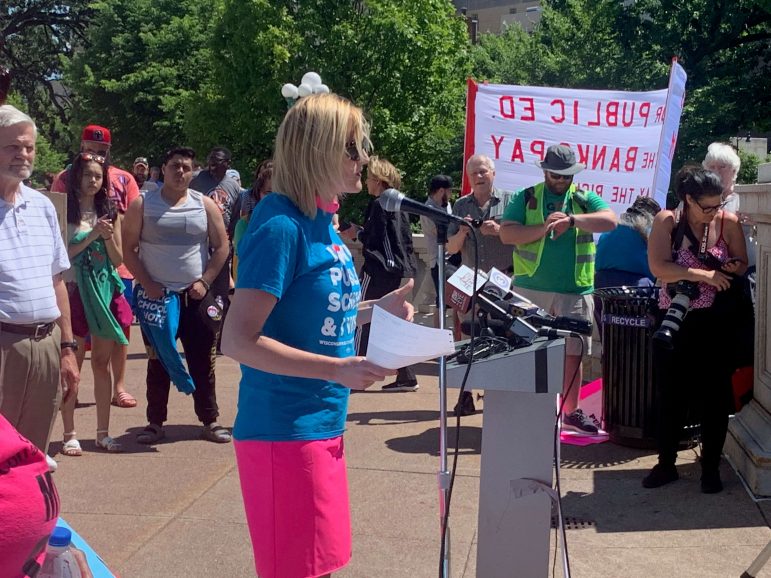 Sun Prairie mayor Paul Esser spoke to march participants on Tuesday morning with a message of support. 
"Maybe your journey won't end in success, the success we wish this year, but your efforts will not go unnoticed. Your willingness to stand up and insist on being heard will be seen by others, and that will encourage them to get involved. That's the way that movements get started and change occurs, and I applaud you for that," he said. 
The group at times persevered through severe rain and weather conditions, which even briefly forced the group to stop for safety concerns. 
"We had every kind of crazy summer weather this four days," DuBois Bourenane said. "We've had blazing hot sun and chilly mornings where you keep taking your coat on and off, and then we had everything from hours of light drizzle to just torrential downpour."
Milwaukee school board member Megan O'Halloran originally prompted the march by announcing her intent to walk from Milwaukee to Madison to call for broader state education funding. WPEN modified O'Halloran's original idea to a 60-mile march to reflect legislators' decision to nix a proposal to create a 60-percent reimbursement of special-education costs. 
A February 2019 report from the Wisconsin Policy Forum found that Wisconsin's primary funding source for special-education costs has remained unchanged at $369 million for the last ten years, even as special-education costs have risen to nearly $1.4 billion. Wisconsin is one of just five states that opts to reimburse local school districts for special-education costs rather than include aid in its general school funding formula. The state provides the lowest reimbursement rate of the five.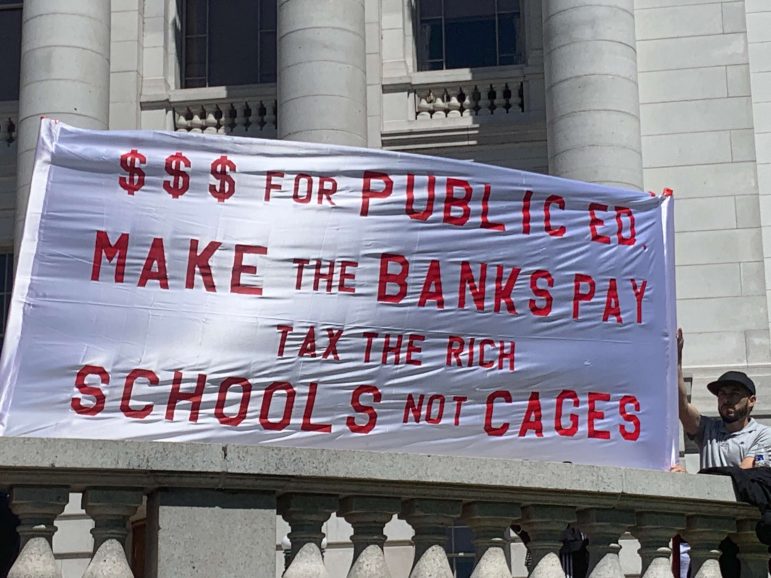 "That really was the most transformative proposal in the Evers budget," DuBois Bourenane said of the decision to center the reimbursement figure in the march. "We had heard many people testify at hearings and so on that 'if you only do one thing, do that. That would be a game-changer for us,' districts were saying."
Cuts to proposed disability and English language instruction funding were big flashpoints for march participants among the lawmakers' proposed changes to the state budget within the group. 
Margarita Rubio, a parent of a Badger Rock Middle School student, came out to the march Tuesday morning with a group of parents she met through the Wisconsin Board for People with Developmental Disabilities. She was asked to speak at the rally held at Marshall High School on Monday about her experience navigating Madison schools for her 13-year-old son with six invisible disabilities. Rubio decided to follow the group into Madison on Tuesday to show her support for broadened special-education funding, despite her "bum hip." 
Rubio has found Madison schools to be a fairly hostile place, often leaving her to fight with teachers and administrators who are ill-equipped to care for her son. "Teachers and the special [education] teachers are trying, but it just makes it really difficult when they don't have proper leadership," she said.  
Gina Pagel, a third- and fourth-grade Spanish and social studies teacher in Waunakee, highlighted the needs of English language learners for Sun Prairie rally attendees. 
"Wisconsin's reimbursement rate is the lowest in the nation for bilingual and bicultural aides, yet the Joint Finance Committee completely rejected all new aid for this category of the budget," Pagel said. 
Despite protesters' message, state Assembly lawmakers voted to move forward Tuesday evening on a version of the state budget that would increase spending on schools by roughly $500 million, about $900 million less than the budget Evers originally proposed to lawmakers. 
"I think there's a lot of anger and frustration about that entire process, but I do feel that we were a vocal and visible presence today that cannot be ignored, and the message that we intended to send, which is that we're watching, we're listening, we're demanding that you do right by our kids and we're not going away until you do, was definitely heard," DuBois Bourenane said.
"I hope our legislators know that we are not going to silently absorb whatever decisions they make in the next couple of days," she added, noting that WPEN plans to grade individual legislators with a "report card" in coming weeks.
The state budget passed the Republican-controlled Assembly Tuesday and Senate Wednesday and awaits a signature or veto from Governor Tony Evers.