Dancing, drums and laughter filled Olbrich Park last Friday as the Madison community came to enjoy Schenk-Atwood-Starkweather-Yahara (SASY) Neighborhood Association's annual celebration of the summer solstice.
"For us, it's a seasonal recognition of the importance and value of the changing of the seasons," Brad Hinkfuss, president of SASY Neighborhood Association, said. "In the summer, we're celebrating the longest day of the year, the fact that we're here, and the beauty of it all and the harvest that it entails."
The festivities began with free canoe rides on Starkweather Creek, followed by a bring-your-own-drum drum circle, which slowly drew the dancer out of more and more onlookers. 
"It's not every day that I dance like this," Arden Eckhart, local musician and artist, said. "In fact, most days I don't feel like dancing, but it's good to do things that you don't normally do for the sake of refreshing your brain and your spirit."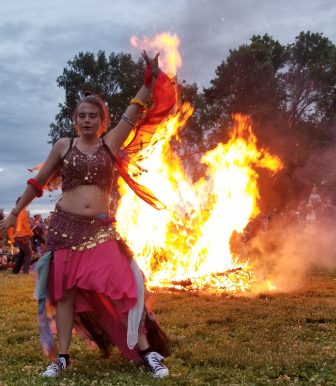 Nearby, all the while, families set up picnics and children spun gleefully down a nearby sledding hill.
Some attendees were inspired to come to celebrate the symbolic nature of the summer solstice. 
"I find it spiritually uplifting," Eckhart said. "I don't believe in any religion; none of them suit me. But this resonates well with me because I see it as just a celebration of life in general."
Others came with simpler inspirations.
"Well, I have a 4-year-old and a 6-year-old, and we live a block away so … this is what's happening in our neighborhood today," Peter Hopman said with a laugh.
Dusk signaled the lighting of the bonfire, a symbol of the celebration of life, which drew everyone around it. After a short speech and chant, the fire was lit and grew with the beat of the drums.
Local volunteers clad in neon vests held a relaxed perimeter as dancers dipped in and out of the circle gathered around the blazing flame. 
As the sun and the bonfire began to dissipate, people started throwing notecards into the embers of the fire.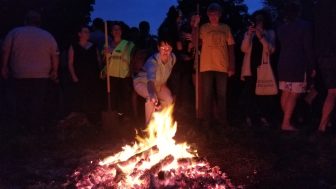 "You see all the people throwing paper here? It's a time to let go of things that you want to let go of and to wish for things that you hope to come in the season to come," Hinkfuss said.
This year marked the 17th year that SASY Neighborhood Association has hosted a Summer Solstice celebration. They also host a winter solstice celebration every year on December 21, with the similar features of a bonfire and drummers.