The Mellowhood Foundation's Summer Initiative is a paid summer program in the southwest Madison Meadowood neighborhood that teaches a large age-range of children about independence and real-world responsibilities.
The initiative draws on the knowledge students already have from school, while also teaching them skills such as independence and self-determination. Mellowhood student Amaria has learned valuable lessons through the program, such as "working hard, getting good grades, and failing from time to time."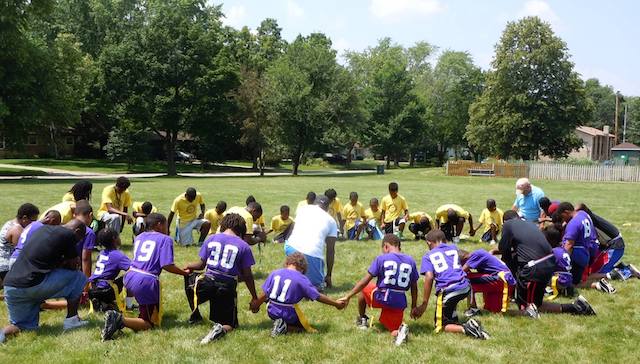 The initiative focuses on team-building through activities such as gardening and group prayer. Students work together to develop menu plans using the food they grow and are served lunch and dinner. There is also an emphasis on helping students improve in core academic subjects like math, science, and English. All Mellowhood students take part in a program called Preparing Assets Integration without Dependency (PAID). Through this program, students get paid for the time they spend at Mellowhood in the summer, while also learning how to properly save and manage their money. Students take the PAID program very seriously. According to Amaria, "[The program] teaches you how to be responsible; we have to bring our work shirts, gloves and bags."
Many people hear about The Mellowhood Foundation from peers, relatives, and family. When students apply to become members of the Foundation, they must complete two home visits with Mellowhood coaches. At these visits, coaches meet with parents to make sure their children are interested and willing to contribute the necessary time and energy into the community. The close-knit Mellowhood community donates food from their gardens and provides an enriching summer program for local children. Students at The Mellowhood Foundation become part of an extensive community of people who are willing to support them and help them grow and learn about the environment.
The Mellowhood students are split into two age groups – Juniors or Seniors. Juniors, generally children under 14, can start the program as early as the fourth grade; they work at a garden at Good Shepherd Lutheran Church. One way Juniors help is by growing milkweed for the garden's butterflies. They also grow marigolds, petunias, squash, basil, and peppers in the garden, with the help of Master Gardener volunteers from UW-Extension and others.
Seniors in the Mellowhood Foundation are made up of high school students. These students work in the Hammersley garden where they mainly grow watermelon and pumpkins, as well as a variety of fruits and vegetables. Seniors take on a lot more responsibility by working longer hours and planting and harvesting more. Seniors also run a podcast called Your Voice - Your Choice, in which they talk about their personal experience with the Foundation.
The Mellowhood Foundation's Summer Initiative was created to allow youth to take initiative in all aspects of their life. The work the students do at Good Shepherd Lutheran Church and elsewhere gives them a chance to learn about their community while helping to improve it. Through their work, students grow and continue their journey of becoming responsible, self-sufficient citizens.
This story originally appeared in the Simpson Street Free Press. This article was written by Zaria Glover and Cris Cruz. Zaria Glover is a freshman at Madison West High School and has been working at Simpson Street for three years now. She's interested in pursuing a career in journalism. Cris Cruz is a Junior at Madison West High School and has been working at Simpson Street and Wright Free Press for six years now. He enjoys writing articles on space science and geography.