Describe a time when you felt like a part of your identity (your race, your gender, your job) was being profiled or stereotyped. What was the experience and how did it make you feel?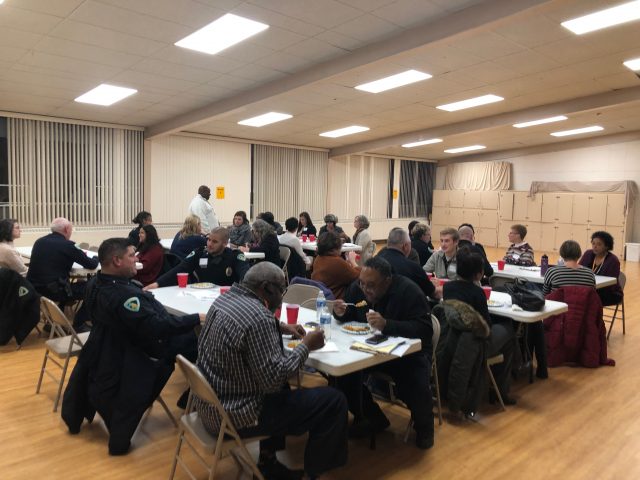 That was the question for residents and police who attended a listening circle on the North Side of Madison on Wednesday night. As the night wore on it became clear that everyone has a story about how they've been made to feel profiled. Stereotyped. Identified in an offensive way. And everyone, from every walk of life, seems to feel the same way about it.
It's tiring.
It's tiring being profiled. Being stereotyped. Being pigeonholed. Most readers can identify and relate with those feelings. Feelings that would seem to get better if the other people doing it would just stop.
About 40 members of the community and Madison Police Officers sat in listening circles at the Sherman Avenue United Methodist Church for discussions and icebreakers between residents and police.
The listening circles have provided a chance for police and residents to get to know one another and become human to one another in Milwaukee. The circles are a step towards making police more a part of the community, knowing people's personal stories and allowing people to know officers' personal stories.
The Zeidler Center based in Milwaukee partnered with the Northside Planning Council to bring listening circles to Madison. Wednesday night's circle was the first Madison-based event they have done.
"In the end what we really need is to heal with people," Abha Thakker of the Northside Planning Council told the gathering. "The healing is the first step."
At least three different residents and two Madison Police officers said that they heard great things about the listening circles and wanted to be a part of it.
After a large, catered dinner residents and police broke into five separate circles. Each circle was run by a facilitator who took notes about what some of the topics and stories people tell are. The notes were completely anonymous.
Inside the circle a question, such as, "What do you wish others would know about who you really are?" was posed.  People were given two minutes each to answer that question — if they wished to speak — or tell their story. After each person is done the group has a moment of silence to reflect on what that person just said. No one is allowed to interrupt anyone or have cross-discussion during the person's sharing time.
The circles lasted for about an hour and the goals were to listen to one another, brainstorm ways to support and strengthen the community together, and share ideas with officers and residents about the community.
Out of these listening sessions and surveys that were handed out prior to the event, there will be initiatives and recommendations given that police and community organizations will use.
For questions about the Madison Police and Resident Listening Circles, people can email Lisa Dugdale from the Center for Community Stewardship at ldugdale@community-stewardship.org.
This story first appeared in Madison365. It was written by Nicholas Garton, who is a Madison365 graduate and a reporter for Madison365.