Although much of the flooding throughout Madison is under control, Madison residents are still feeling the effects of August's historic rainfall a month later.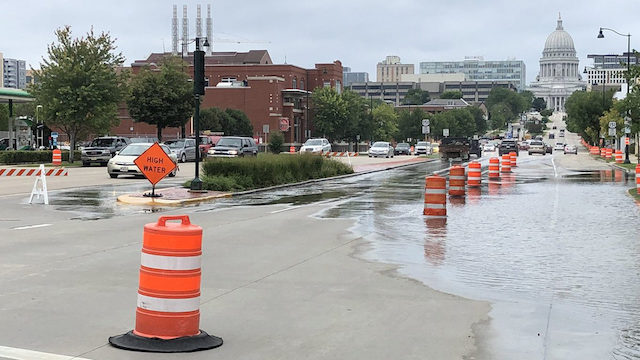 Torrential rain stranded people in their cars and homes, washed out highways and flooded city streets. One man in his 70s was killed when swept away by the swift currents of the floodwaters after exiting his stranded vehicle.
Mayor Paul Soglin estimated flood-related repairs could cost the city millions of dollars. And, high lake levels and additional rain could lead to more road closures and damage.
What's often missed by officials, and residents alike, is the damage that cannot be easily seen.
Stress related to personal property damage and the fear of future flooding can be detrimental to mental and emotional health
The most common feeling is a loss of control, which can lead to depression, said Dr. Bob McGrath, a psychologist at University Health Services at UW - Madison.
Anxiety about what's to come and a sense of loss can exacerbate stress, too.
McGrath recommended taking care of yourself and your body through physical activity and healthy eating to prevent further mental and emotional distress.
Taking time to "chill out" is key, too, said McGrath. He recommended programming smartphones and smartwatches to send hourly reminders for focused breathing to help calm a stressed mind.
The Wisconsin Department of Health Services offered a series of tips for staying emotionally healthy following a disaster, as well.
The DHS recommends avoiding excessive exposure to disaster coverage, which can increase stress, getting enough sleep, establishing a routine and seeking out resources for recovery.
Establishing a routine helps those affected get "back into a point in your life when you feel in control," said McGrath.
The DHS further recommended getting involved with the community to help with flood relief, and McGrath agreed that volunteering with recovery efforts is the most effective way to reduce stress.
Finally, the DHS encouraged connecting with others, whether family members, friends or neighbors, who understand where you are at emotionally. Isolation can heighten helpless feelings and spur mental and emotional health issues.
"Even if it's unfortunately connecting with others who have had some sort of disruption to their housing situation or whatever it might be, there's a soothing quality to this, like 'I'm not the only one in this or all alone,'" McGrath said.
Connecting with others can help you detect signs of emotional distress in yourself and others, such as eating or sleeping too much, isolated behavior, unexplained pain, relationship tensions, and substance abuse.
Emotionally, the DHS advises watching out for a sense of emotional numbness, low energy, feelings of confusion, forgetfulness, negative emotions -- like anger, worry and fear -- and difficulty getting rid of troubling thoughts or flashback memories.
There are many local and national resources for those affected by flooding to utilize for physical and emotional recovery.
The federal Substance Abuse and Mental Health Services Administration offers immediate crisis counseling for people affected by natural disasters. In addition, the Centers for Disease Control and Prevention provides coping tips for all ages.
The United Way of Wisconsin's 2-1-1 Wisconsin further allows residents to report flood damage, browse  available flood relief resources, including a disaster distress helpline and a flood toolkit, which offers guidance for dealing with flood-related damage.
The United Way of Wisconsin website also includes resources for emergency mental health care and finding a local mental health professional for adults and children.