The League of Women Voters of Wisconsin is hosting voter registration events throughout the state to celebrate National Voter Registration day on today, September 25.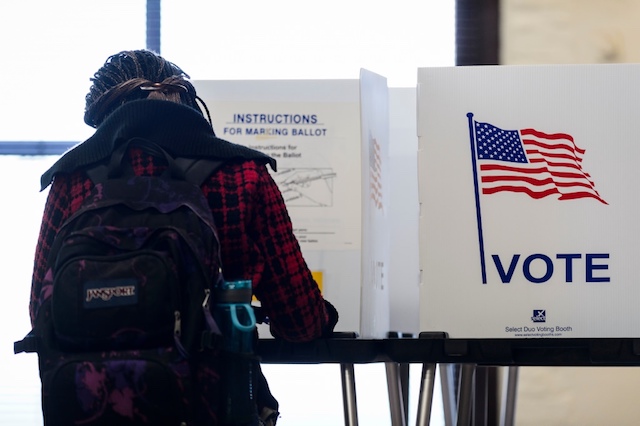 Madison's local League joins Wisconsin's 19 other Leagues and 3,500 groups across the country to register and educate new voters about the importance of participating in democracy and exercising the right to vote. The events are meant to mobilize and empower voters to make their voices heard in local, state and national elections.
"National Voter Registration Day brings national attention and awareness to remind voters to check their registration status well before Election Day. It is important so that voters are prepared to make their voice heard in November," said Eileen Newcomer, voter education coordinator for the League of Women Voters of Wisconsin. "The League is here to help anyone who needs it. We care that you vote, and don't advocate who voters should vote for. We just want you to be informed and vote."
The Madison League will host registration events at the following locations:
Madison Public Library Meadowridge (5726 Raymond Road) -- 4:30 p.m. - 5:30 p.m.

Madison Area Technical College/Truax (1701 Wright St) -- 10:00 a.m. - 1:00 p.m.

Spectrum Brands (1301 Deming Way, Middleton) -- 11:30 a.m. - 1:00 p.m.

St. Vincent De Paul Food Pantry (2033 Fish Hatchery Road) -- 10:30 a.m. - 12:30 p.m.
Local leagues throughout Wisconsin plan to hold voter registration events and outreach events until the November 6 general election. Wisconsin has same-day registration, too, which allows voters to register at the polls and then vote on election day.
Advanced registration can also be completed in-person at the municipal clerk's office up until 5:00 p.m. on the Friday before the election. Registration by mail must be completed up to 20 days in advance of the election. New voters can use their valid Wisconsin driver's license or state-issued ID to register online up to 20 days in advance of the election.
To register anywhere, including on election day, new voters must always provide proof of residence.New voters can find more information on voter registration procedures here or register to vote at My Vote Wisconsin. And, residents can find other registration events here.