A project organized by a Madison art group brought teens and artists together to turn what was once an little-used back alley into a space the community can enjoy.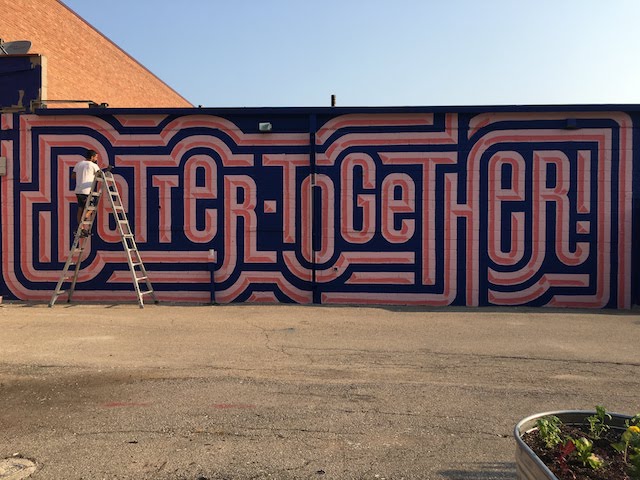 Five art teams chosen by The Bubbler, an art hub supported by the Madison Public Library, collaborated with teen groups in Madison to brainstorm, design and paint the walls of what would become "Madison Mural Alley."
According to Trent Miller, Bubbler Program and Gallery Coordinator, the alley, located behind the Madison East Shopping Center, was primarily used in the past as a through-street to get from East Washington St. to other parts of Madison.
The project started in 2016 when the owners of the shopping center agreed to let neighborhood planners paint their back walls, according to the Bubbler website. After securing funding from the Madison Arts Commission, Miller and his team started working on organizing artists, pairing them with teen groups and preparing the area for transformation.
"We saw it when it was just a dingy, dirty back alley," Miller said. "We were deep in it all—a lot of cleaning, a lot of prep work, and a lot of logistics work."
Work on the murals finished in August, which the community celebrated with food carts, musical performances and a meet-and-greet with the artists.
Now, Miller said, the alley has the potential to become a more prominent community space.
"People have already talked about doing a movie or dinner event there," Miller said. "It's really amazing to see the community come out and think of that space differently."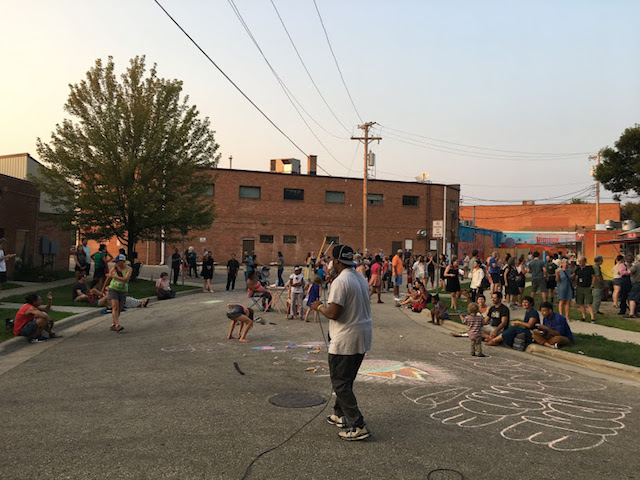 Mural 1: "Better Together"
Brooklyn-based artists Flavia Zimbardi & Caetano Calomino and Madison-based artist Henrique Nardi worked with youth from the Dane County Juvenile Detention Center to paint a message of unity on their mural.
According to Nardi, the message, which reads "Better Together!," exemplifies the greater theme of the whole project.
"The message encourages people to join forces to do something for their common goal," Nardi said.
The artists hoped to impart this message upon their teammates from the Detention Center – three kids who, Nardi said, the artists wished they had more time to establish a deeper connection with.
Still, Nardi said he had enough time to organize a workshop on drawing letters, from which the artists derived the typography that ended up on the mural.
Satisfied with the results of this project, Nardi said he hopes the Mural Alley can be the first of many public art projects emerging in Madison.
Mural 2: "Squeeze the Life Outta Lemons"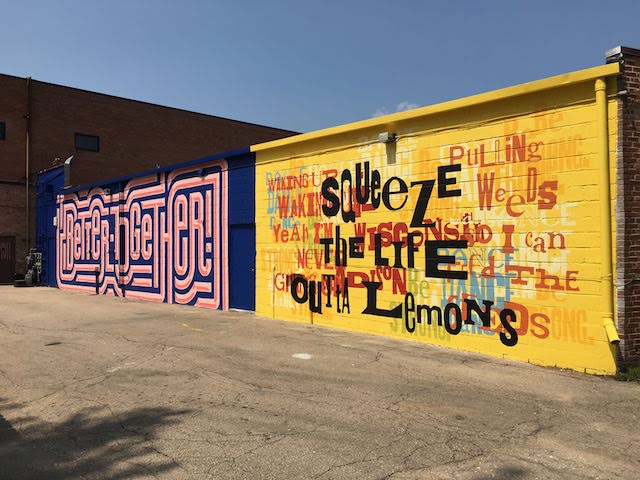 Although Detroit-based artist Amos Paul Kennedy said he had never worked on an art project of this scale before, his mural came together thanks to numerous volunteers, Bubbler staff and the Darbo-Worthington Neighborhood Teens & Other Madison Teens organization.
Kennedy, who works primarily in letterpress printing, said that students from the Darbo-Worthington teen organization came up with ideas for the text of the mural while he introduced them to letterpress.
"The students liked how the layering in my work allows for several different voices to be heard at the same time," Kennedy said.
Among the messages on the mural, the text "squeeze the life outta lemons" stands out most prominently on the yellow background.
A full-time Detroit resident, volunteers played a significant role in the completion of the project, Kennedy said.
"It reflects well upon the city," Kennedy said. "[Madison's artists] really desire not to bring the people to art, but to bring the art to the people."
Mural 3: "Canto a Madison"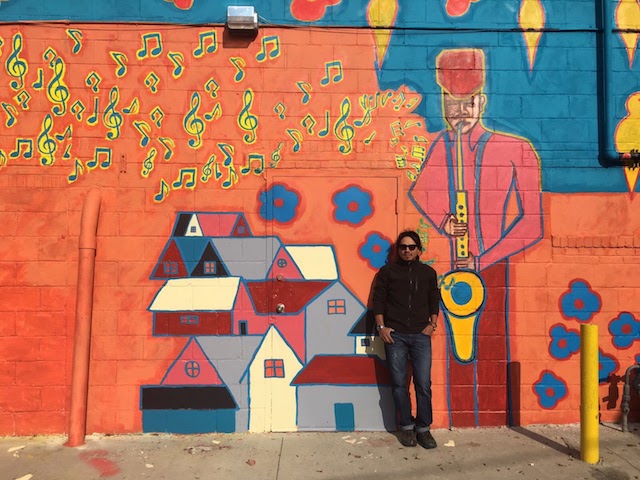 Guatemalan-American artist Richie Morales said he used bright colors, flowers and music notes to depict the joy of summer in his mural, "Canto a Madison," or "Singing to Madison."
Morales, who worked with kids from the Dane County Juvenile Court Shelter Home, said he formed a personal connection with the kids throughout the project.
"These kids have things like food, clothes, and housing, but not much love," Morales said. "Through art, people can start soul searching and connecting with themselves and others."
After collaborating with the kids to create a design, Morales said he combined their drawings with his own, a black musician playing the saxophone, to honor the history of African-American music in the United States.
Using an almost-neon orange and stark, bright blues, yellows and pinks, Morales created a mural that he said he hopes will inspire people to live happily and healthily.
"The main message is to inspire hope through art," Morales said. "We have to promote these projects so young people can focus their energy on [improving] themselves."
Mural 4: "East Side of Madison"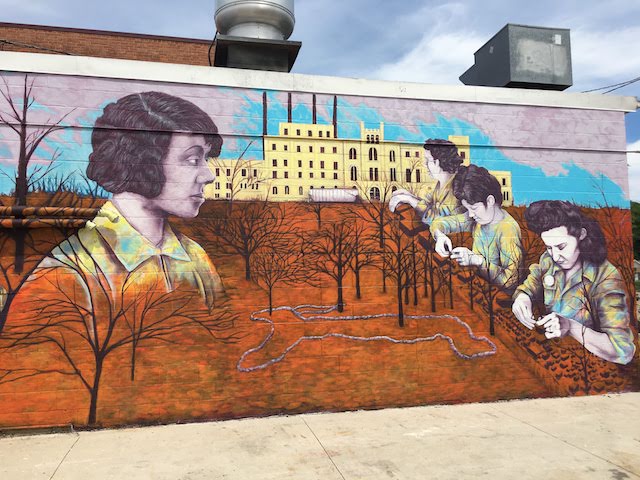 Working with kids from Capitol High School, Wisconsin-based artist Pete Hodapp blended historic images together on his mural to honor the history of Madison's east side.
According to Hodapp, after students from the high school collected hundreds of photos from the Wisconsin Historical Society, he and the group curated, discussed and narrowed the selection down to their main images: depictions of factory workers and a factory, Native American effigy mounds, a carousel from Ella's Deli, and Freddie Mae Hill, the first African-American Madison-resident to graduate from UW-Madison.
Although the final product came out according to plan, Hodapp said engaging with students from Capitol High School, a school primarily for students who "can't manage to stay in school," was a unique and challenging experience.
"They were really great kids," Hodapp said. "You just have to find a way to keep them interested, and make them realize you're not out to get them."
Hodapp said the group's discussions about history and art helped change the attitude of many of the less interested students.
"By the end, one of the same kids who didn't care at the beginning brought three of his friends over after school to show them what he had painted," Hodapp said. "But at that point, there was nothing to show—we hadn't painted anything but one color yet. But he was proud of that. That was enough."
To the surprise of Hodapp and others in attendance at the Mural Alley opening ceremony, Hodapp said the family of Freddie Mae Hill showed up to show support for the project.
"The family [of Freddie Mae] all came with buttons on. It was amazing," Hodapp said. "That led to people talking about [the mural] even more, and for me, that's the most I could ever hope for. To get people talking about something - especially history, because so much of our history is gone."
Mural 5: "Run the World"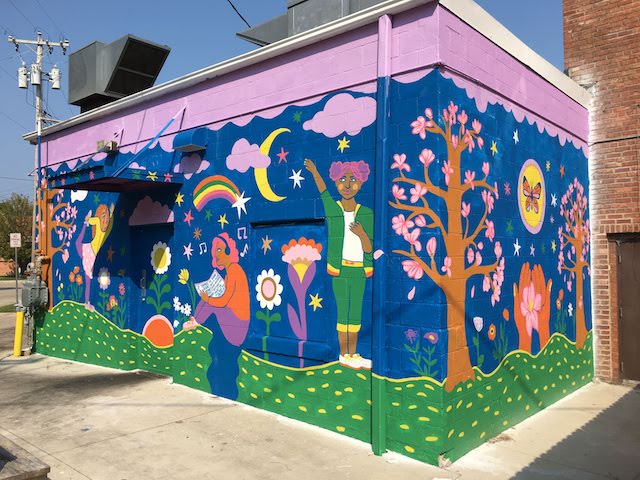 Madison-based artist Lesley Anne Numbers collaborated with the Goodman Community Center Girls Inc. to create a mural that recognizes and empowers women.
Numbers, who previously lived in the Darbo-Worthington neighborhood, said she had never worked on an outdoor mural before, but did not want to pass up the opportunity to work on a project in her former community.
"The [project] is a really nice way to activate the area and engage the community more," Numbers said.
According to Numbers, she and the girls from the Goodman Community Center spent four weeks last spring brainstorming ideas, using music and movies for inspiration, until they completed a draft of the design.
The completed mural features colorfully-dressed girls posing in a magical field with flowers, pink, flowering trees, a dove, a bright yellow moon and shooting stars.
"We wanted a message of anti-violence, female empowerment and inclusivity, so we depicted those in terms of positives," Numbers said, "The mural shows a free and joyful representation of the environment that girls hope they can live in one day."