Taylor Wright Rushing, a Masters of Fine Arts student at the University of Wisconsin-Madison, is an artist of many talents.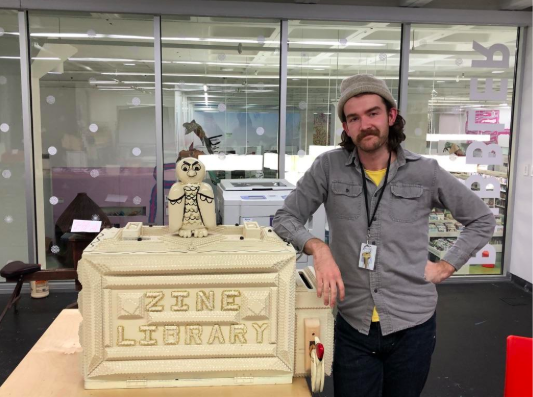 From March to April, he shared these talents - including woodworking, painting, drawing, and music - as the Artist-In-Residence at the  Bubbler at Madison Public Library
"Philosophically, I'm really on the same page as the folks here." Rushing said. It's all about accessibility, completely unpretentious art-making, and it's free to the public. The Bubbler has had such a great roster of other artists-in-residence that I'm proud to say that I'm friends with a bunch of them, and I've been able to work with them in a variety of capacities. For me, the opportunity to participate in the art residency program was something that I just had to do."
During his residency, Rushing led multiple workshops on the subject of wood carving and whittling. For these classes, he has drawn upon expertise that he attained in his early twenties while working as an assistant to a professional carpenter in the United Kingdom. There, he found a natural fit for his aptitude in crafts, and fell in love with the art of woodworking in the process.
"There's something about carving that is really high risk, high reward which is thrilling," Rushing said. "You're always at risk of making mistakes, and the material has its own attitude and kind of speaks for itself. I'm constantly in a fight with the lumber, and that's a challenge which I really like."
In his woodworking classes, after going over some basics of knife safety and handling, it's not long before Rushing challenges his students to embark on a carving project that he calls the "Whittler's Masterpiece." This piece, also known as the Ball in Cage, starts as a single block of wood from which whittlers carve out a little floating ball, which remains securely housed within the carved-out frame of the original block (if all goes according to plan). While Rushing described this project as one that most anybody could do, he also pointed out that it involves quite a bit of time and patience, and usually requires more than the time allowed by one class to finish.
"Nothing gives me more pride than when somebody sends me a text or email and shows me their finished project," said Rushing. "People seem to have a blast with it."
During his residency, Rushing also led workshops on the topic of self-published artist books – or zines. His own passion for zines was stimulated in part while attending The Evergreen State College in Olympia, Washington. At Evergreen, Rushing grew impressed by the zine libraries he came across in local bookstores and inspired by the works of artists such as Mark Todd and Esther Pearl Watson.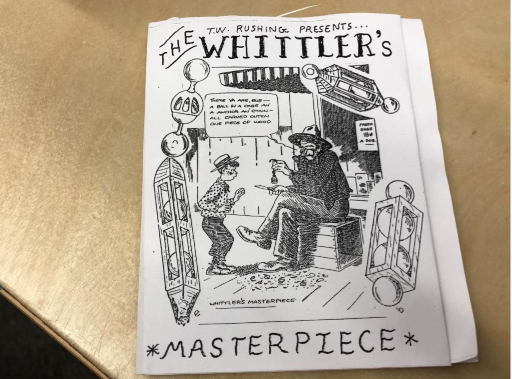 Rushing has since embraced the art form because of its accessibility and lack of rules.
"I feel that zine culture promotes sincere, screwy drawings and stories," said Rushing. "I think that there is something so free in that. There are no expectations when you make a zine. You can be so niche and esoteric while also connecting with so many magical weirdos through the form."
While Rushing's own work often explores themes of myth versus reality, and frequently draws upon elements from his childhood in the Pacific NorthWest, he has been impressed by the variety of the creative zines produced by attendees of his workshops.
"I do a workshop where you make a zine that incorporates a list, or a how-to set of instructions," said Rushing. "I had someone make a zine that they called 'Eight Notable Hamburgers' where she illustrated eight different hamburgers, and it was just beautiful. There was another one by a student of mine called 'How to Cut Your Own Hair' that was an absolute masterpiece. Someone created a zine called 'How to Ice Fish' which was also really great."
Some library patrons come to Rushing's studio hours with their own artistic agendas, which he loves.
"The other day, a kid came in and he loved to draw Godzilla," said Rushing. "So, we sat and drew Godzilla for as long as we possibly could."
No matter what medium he's providing instruction on or pursuing himself, Rushing strives to produce community-based art free from the regular expectations of the art world. In this regard, his philosophy has been shaped in part by influential figures such as his mother, a self-taught artist who built birdhouses when Rushing was growing up, and Lynda Barry, a cartoonist that he worked with at UW-Madison, who Rushing describes as an "absolute genius."
Now, with the conclusion of his residency, Rushing prepares to graduate from his master's program after which he will be preparing for an exhibition at the Webb Gallery in Waxahachie, Texas. Although he is uncertain whether he will remain in Madison following his graduation, he expressed gratitude for the experiences he has had during his time here.
"I'm just beyond pleased with what I've been able to do in the Art department at the University," said Rushing. "In addition, I don't think I would be nearly as happy there if I had not been a part of the Bubbler."