The Caribou Tavern on Johnson Street is a Madison institution. It's been in the hands of the same family of owners since 1970. Boasting some of the cheapest beer in town — $2.50 for a Blatz in a bottle — the bar attracts a colorful cross-section of the Madison community, from undergrads and young professionals to professors, service workers and police officers. Walk in on any given Wednesday, Friday or Sunday night and you'll be greeted by a handlebar-mustachioed man in a turtleneck sweater with a catchphrase that feels pulled out of a time capsule: "How may I be of service?"
This is Winslow Wise. He's been tending bar at the 'Bou for the better part of 25 years. In that time, he's amassed something of a cult following among regulars and strangers alike. I recently sat down with Winslow to talk about his appeal, what the Caribou means to him and what's kept him bartending for a quarter of a century.
Wise arrived in Madison in 1995 from Chippewa Falls to study history at UW–Madison. After working a full-time job in insurance for ten years postcollege, he got an opportunity to make bartending his primary gig and took it. But that wasn't always the plan. He "had no idea" what he wanted to be when he grew up.
"Still don't. So that is probably one of the reasons why I'm a bartender. Was not quite sure. Knew I did not want to be a teacher. Fell in love with a history course. Was planning on doing business school," he said. Still, he's "very happy with the lack of outside obligations that bartending has. Never have any work to take home with me."
Wise's accent is unmistakably Midwestern, but his careful way of speaking, in a clipped style free of most contractions, is uniquely Winslow. His father was a bartender as a young man. Wise acknowledges that his personality as a bartender — prompt, pleasant, professional — is a product of his parents' influence.
But for all the fastidiousness of his behind-the-bar persona, off-duty Winslow's lifestyle seems enviably carefree. He asked to schedule our conversation for "early" on a Tuesday which, for Winslow, meant 1 p.m. After we were done, he was on his way to play a round of golf. In winter he and his wife of fifteen years, Jennifer, will "flit up to the U.P." for some decent skiing. But vacations at other times of the year could take them anywhere. "Mostly just wander off somewhere. Went out west for a month last year. Booked a trip to Copenhagen for spring break. Neither one of us had been. Going to stay on a little houseboat while we're there…Yeah, there's a big, wide world," he said. 
Winslow takes pride in his work. He can make a martini or a sidecar with the same dexterity as he can a brandy Old Fashioned and serve it with the same graciousness as he would a can of PBR or shot of Tullamore Dew. He hopes everyone who enters the Caribou will be converted into a regular. "Having people return, that is how the mortgages get paid." But he isn't above calling the place what it is: a dive bar par excellence.
"I think that is as good a shorthand as you could come up with. It is the aesthetic, it is the clientele, it is the product. The Caribou Tavern is a shot-and-a-beer kind of place. It is relaxed, I guess, is what the vibe is. A 'come as you are' kind of feeling."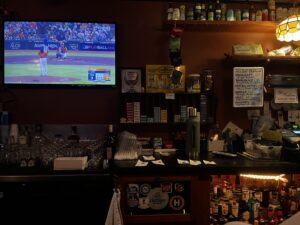 Though overWinslow's tenure the price of a bottle of Blatz has increased (albeit only by "75 cents, maybe a dollar") and the patrons have gotten a little older—when Wise started it was mostly undergraduates living on the 600 blocks of Johnson and Gorham; now the neighborhood has more young professionals—not much has changed. 
"I'm very fond of Madison. I like the friendliness. It's nice to have a humorous, sharp clientele." And he wouldn't trade that for much. "Some mountains would be awesome."
Regarding his allure, Winslow is dumbfounded. "I'm really not too interesting a fellow." But the fascination persists. Earlier this year he was interviewed for a Punch magazine feature on where to drink in Madison. Throughout his career he's had several more requests for interviews and invitations to come on podcasts. There's no secret, he says, to his success.
"I just try to be nice to people."