Ten Wisconsin-based companies the Wisconsin Innovation Awards last week, an award which highlights and celebrates innovation in Wisconsin companies.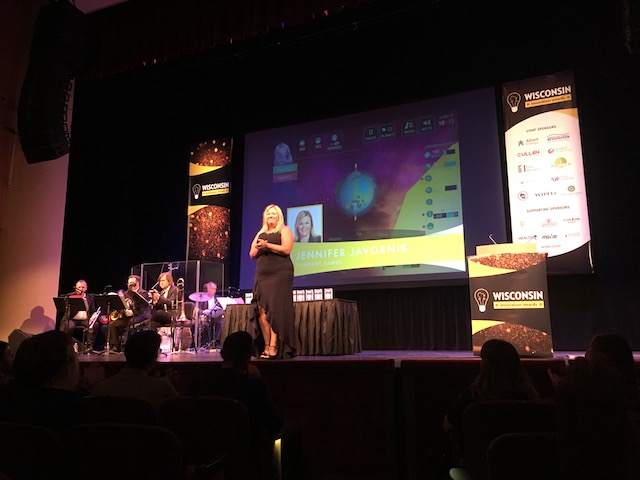 21 business leaders comprising the Awards Committee selected the 10 winners from 33 finalists. Each winner represented a different industry or business sector. Joseph Boucher, co-founder of the WAI, said this year the WAI received more than 350 nominations.
"The goal is to have people from different backgrounds, different interest, meet each other and see what else is going on and collaborate," Boucher said.
Boucher and entrepreneur Matt Younkle originated the Wisconsin Innovation Awards in 2014 as a way to expand the Wisconsin innovation ecosystem, and to educate schools and the broader community on the companies and initiatives happening around the state.
Each of the 33 finalists received from the WAI a professionally-produced video for use as a development tool, whether for their website or for business development.
"What gets me most excited is to watch and see which one of them might become the next big success story," said Boucher, who received his MBA and JD from University of Wisconsin-Madison. "You constantly have to find new businesses and new ideas or else they'll go away."
The committee evaluated the nominees based on a variety of criteria, including the usefulness of the innovation, the growth or traction of the innovation in its market and the novelty or uniqueness of the innovation.
The finalists represented 16 different areas and cities throughout Wisconsin.
Here are the 2018 winners and their respective categories:
Agriculture: Corncob, Inc.
Waukesha-based Corncob, Inc. developed a wastewater treatment system designed to save money and space. Breweries, landfills and potato processing operations have all used the system.
Art: The Mill Events
The Mill is an event and conference center located in Chetek. A repurposed feed and farm supply building, the event space was vacant for nearly 15 years before it was repurposed by owner Nancy Helms
Business to Business: TailoredCare
Madison-based TCARE partners with government and healthcare organizations to create individualized care plans for the elderly and their caregivers.
Education: LAUNCH - School District of Elmbrook
LAUNCH is an initiative connecting high school students at the Elmbrook School District with businesses. Juniors and seniors apply their academic knowledge to real-world projects to explore different careers and build their skills.
Health: Propeller Health
Madison-based Propeller is a digital health solution focused on improving experiences for pharmaceutical providers, health services and patients with health issues like asthma and COPD.
Manufacturing: Photonic Cleaning Solutions
Photonic Cleaning Technologies, based in Platteville, developed a liquid cleaning solution for precision and optical surfaces. Users apply the liquid to a surface and remove it once the solution dries, peeling away contaminants.
Nonprofit: Rebalanced-Life Wellness Association
Rebalanced-Life Wellness Association, a nonprofit based in Brooklyn, Wis., aims to eliminate health disparities among black men by bringing preventive healthcare and health education to Madison' largest black barbershop.
Professional Services: SmartUQ
Madison-based SmartUQ helps engineering firms save money by using analytics software to decrease risk and optimize design processes.
Software: Matchback Systems Inc.
Matchback Systems, a software company located in Green Bay, helps shipping and logistics companies reduce emissions and improve shipping efficiency.