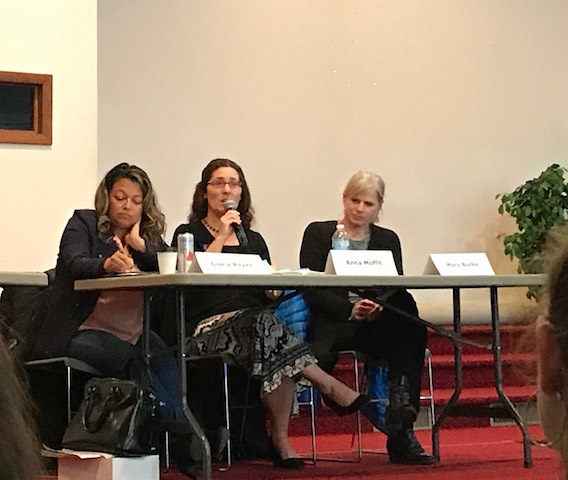 Madison Board of Education candidates Gloria Reyes, Anna Moffit and Mary Burke appeared in early March for the South Side School Board forum to debate topics in preparation for the April 3 election.
The forum was moderated by Taylor Kilgore from Simpson Street Free Press and Terri Strong from Delta Sigma Theta, and presented by the Cap Times, SSFP, Delta Sigma Theta Alumnae and Mt. Zion Baptist Church.
Current school board vice president Moffit is being challenged for Seat 1 by deputy mayor Reyes. Burke is up for re-election for a third term and is running unopposed.
Candidates answered a mixture of prepared and audience questions that touched on topics including the racial achievement gap, protections against gun violence in schools, special education and recruiting teachers of color.
The forum began with a discussion of school security in the aftermath of school shootings across the country. Reyes, who spent twelve years in law enforcement and is currently getting her Masters degree in Security Management, said they needed to look at the infrastructure of every school, find any gaps, and train security teams to respond to suspicious behavior.
"Our schools can't do this alone. We need our community to come in and be a part of this solution. We need our students to be part of this solution," Reyes said.
Moffit, who has three children attending the district's public schools, said the issue was a top concern for her, and that she was "open to discussion" about what type of security measures would be best to add.
Moffit emphasized the need to take proactive measures and advocate for "common-sense gun laws."
"We should not have 300 million guns floating around our community, and we certainly shouldn't have assault-style weapons available to anybody," Moffit said. "We have to ensure that we're meeting our students' needs.
All three candidates said they opposed putting more guns into schools or the community, with Burke saying that "guns in our schools are unacceptable."
When asked about their opinion on placing Educational Resource Officers in schools, both Burke and Reyes said they support them, while making sure the officers are ultimately supporting students and keeping them safe.
"We can't use [EROs] solely for enforcement action. The school-to-prison pipeline wasn't just caused by officers in our schools. It was caused by the culture of what was happening in our schools," Reyes said. "If we take EROs out of our schools, all the underlying issues that are happening in our schools will continue. We will just get calls to our service and an officer will come who will have no connection to our students."
Moffit, a member of the ERO committee, said students with mental health needs have a disproportionate number of interactions with law enforcement, and that there have been instances when students end up in trouble for being kids and for behavior they can't control.
Ultimately, Moffit did not explicitly take a stance because she wanted to "stay with the work of the committee" so the team could come together as a whole to present recommendations to the board.
A submitted question from the audience asked how the board would commit to supporting both students of color and students with disabilities.
"I think we're doing a very poor job of educating our students with disabilities, and that intersects with other factors like race and poverty. It's disturbing. When 75 percent of law referrals are for students with disabilities, and 90 percent of those law referrals are for black students with disabilities, we have a really big problem," Moffit said.
Reyes said not all students' needs are being met, and that she sees it every day in her work. Reyes stressed the district should feel a sense of urgency, and that the district needs to do a racial equity analysis of special education.
The district's African American and Native American students are the least included in general education classrooms and experience the most segregation, Reyes said.
"My opponent has been on the school board for three years. This is not a problem that just started," Reyes said. "We're not going to be able to do something about it if we don't have a voice at the table for those that we serve, who understands the dynamics and the issues of our communities. I've been there."
Reyes said she was identified as a special education student early on, and her parents advocated for her to get out of the class for years, but she had friends that went through the whole special education system, and their trajectory was "totally different."
In a response to a question about effective measures in closing the achievement gap, Moffit cited her efforts of increasing funding for mental health services through programs like Building Bridges.
"We need to be targeting resources to close the opportunity gaps that lead to disparate academic outcomes. And to go back to the question of what have I done in my first three years? I have done that," Moffit said.
Burke emphasized the need for effective programming and community partnerships. Reyes focused on meeting students' basic needs, making sure students of color feel valued and creating a safe space for them to learn.
Reyes spoke about the importance of increasing the number of teachers of color in schools, saying teachers that look like their students and can understand their struggles will add to their students feeling valued.
"We can develop all the programming in the world, but if our students don't feel like they're part of something bigger, it's not going to happen," Reyes said.
To recruit more teachers of color, Burke said the district should reach outside of Madison borders, and make sure schools are friendly, accepting and welcoming of African American professionals.
Reyes said instead of looking outside Madison, the district should be focusing on hiring people within the community and who know the district and its students well.
Moffit said she knows of at least five people of color that grew up in the Madison community, went through the school system, applied for jobs in the district and were not hired.
"That is unacceptable. I believe we have talent here and we need to be tapping into it, making those folks a priority and making sure they stay in our school district," Moffit said.