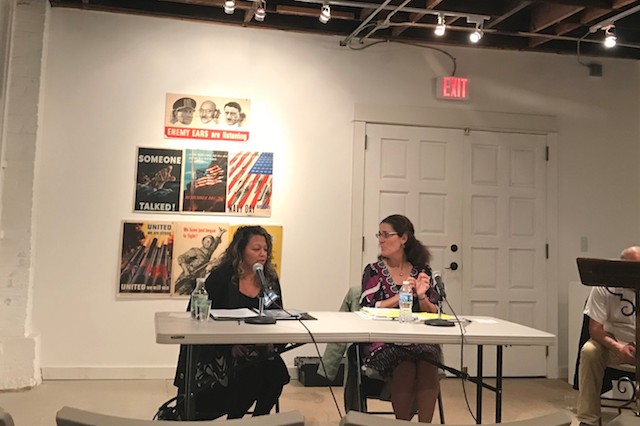 Anna Moffit and Gloria Reyes appeared last Tuesday at an art education forum hosted by the Arts and Literature Lab (ALL) and moderated by the poet laureate of Madison, Oscar Mireles.
Moffit and Reyes are both vying for Seat 1 on the Madison School Board for the spring primary election on April 3. Moffit is a current board member running for her second term.
Reyes and Moffit discussed eleven questions about the district's art education that were submitted by community members, with ALL specifically seeking out contributions from art educators, students and parents in the Madison school district.
Many questions prompted Reyes and Moffit to talk about the ways in which they would support related arts in schools, from class sizes and budget questions to expanding access to other types of art and increasing support for art educators.
Moffit said she had spoken to art educators about the issues they were facing, and among them was the issue of a high turnover rate, especially for music teachers at over 50 percent.
"I think how we keep educators in the field is to respect their work, give them control over what they want to bring into the classroom and allow them to be creative. I think we've moved away from that as we've tried to standardize things for our students to do well on tests," Moffit said.
Moffit added that the district needs to reflect on the workload it requires of its related arts teachers—when teachers teach full days of classes back-to-back with no prep- or clean-up time, it is extremely difficult for teachers to be able to do their best to serve their students.
Reyes said retaining the district's teachers requires upholding a culture that supports art educators, continuing that support through policy and budget choices and recruiting educators that are invested and ingrained in the Madison community.
"We have to provide a place where [educators] can continuously learn and train and become better, and [we have to] remind them every day of why they got into this profession. That's how we keep our teachers. We need to keep them at a place where they are valued, where they are respected," Reyes said.
Reyes returned to the idea of art and engagement in its different forms throughout the forum—for example, engaging disconnected students through art, and engaging the community through partnerships.
When asked what art meant to her, Reyes said when she was going to Madison East High School herself as a student, she had many "behavior issues," and struggled with the same hardships many of today's students deal with. In response to Reyes's struggles, a school counselor introduced Reyes to theatre.
"[My counselor] brought theatre to us in a way in which we were never able to experience, and it really captured my attention and engaged me in so many ways," Reyes said "It was so powerful…It kept a lot of us out of trouble. I really believe in the arts and what it can do for our students who are experiencing some challenges in their lives and re-engaging them with our schools."
Similarly, Moffit responded that art had also helped her through challenges—she was specifically drawn to literary art, and often used writing when she was growing up as an escape from instability in her home life.
Moffit, who attended a private school from kindergarten through eighth grade, said she was disappointed in the lack of opportunities for art in that setting, which she saw as a "tremendous disservice" to its students.
"I think that's an excellent strength of our public schools. That we offer a diverse curriculum, we make arts a priority and an area of focus, and it brings opportunities to students that might not have them otherwise," Moffit said.