To be a Madison teacher is to exist within a set of irresolvable tensions.
Some of them are comic: when the copy machine breaks down four minutes before students arrive at your classroom, do you rush to meet them, or stay to unjam your papers? When concerned about your own health, do you commit to regular hydration and snacks or choose to remain on a tight diet to accommodate your bathroom schedule?
Others are a matter of significant concern: how do you build a relationship with a student who doesn't want to be present in order to achieve outcomes you are accountable for? How do you set aside regular time to assess your staff's understanding of race to ensure they are meeting the needs of all students?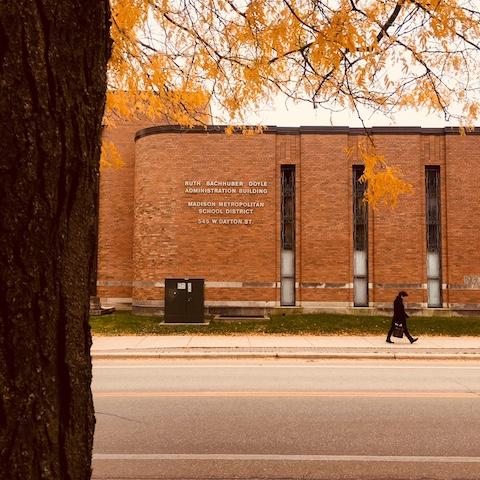 As Tracy Warneke of O'Keeffe Middle School says to all of these questions/tensions, "This is a yes/and conversation."
System Wide Trouble in MMSD
The Madison Metropolitan School District has made a lot of headlines this school year. But Madison teachers have rarely been heard from in the media. Part of this is due to their lack of available time to take regular bathroom breaks, much less talk to a reporter. But part of this is because teachers are caught in the middle of every social issue this country has experienced. They work in the fulcrum of the effect of every historical and current social policy. Because of this, their stories, like their jobs, can be difficult to parse. Sharing their story can lead to catharsis or to confusion.
As Madison Teachers Inc. president, Andy Waity, put it, "Education will touch on just about every subject we struggle with as a society, but we have to be able engage in conversations in a safe, productive, way that moves people forward.
The current culture around education in Madison, as in the rest of the United States, is caught between the urgency to meet the needs of students, especially those who have special learning needs and have been historically underserved, and the need to regenerate and understand each other.
This tension is not new.  But it is heightened. Wisconsin, and the Madison Metropolitan School District (MMSD) has garnered attention for the growing achievement gap between students of color and white students. Along with this media coverage, more attention has been given to incidents with negative racial overtones. But for anyone familiar with MMSD's long history of educating students, these issues are not new.
"We've always had these challenges," said Peg Coyne, the Teacher Professional Staff Representative with Madison Teachers Inc, (MTI) the local educators union.  
But for MMSD teachers, these challenges come at a particularly raw point in history.
Kerry Motoviloff, a Project Leader with MTI said, "As this issue has finally come to the surface, the pain point is that it is coming to the surface at a time when we have the lowest number of resources to actually respond and lift. Teachers have been doing this work as individuals. We need to do this work as a union. The pain is really raw. The harm is palpable…..that's happening at the same point when teachers don't feel like they have resources to do their job. That's not a 'but.' It is not an 'or.' They coexist."
Like all school districts in Wisconsin, MMSD was deeply impacted by former Governor Scott Walker's education budget cuts.
Madison Public Schools are a reflection of the shifting demographic changes occurring in most U.S. cities. Increased levels of students of color in what was once a predominately white school district may lead to varying levels of racial anxiety for teachers.
As Coyne said, "A majority of teachers in Madison are coming from my background, in Waunakee, WI. They go to university and then stay to teach in Madison."  
Without the appropriate training to respond to the needs of students whose backgrounds are different than their own, many Madison teachers may feel overwhelmed and under-supported at a time when the failure of the Wisconsin public school system is widely acknowledged. This is noticeably impacting the reputation of MMSD.
"Over time, [Madison] has had people of color, but the great divide [in achievement] wasn't as publicly known. The general public in Madison doesn't really understand our demographic has changed and needs are heightened and we aren't the middle class bastion people think we are." Coyne said, "We are used to having highly successful rating on our schools. There has been some slippage."
Handling the reality of MMSD's changing needs is complex. But holding a simplistic understanding of the challenges teachers are facing undermines the work they do. While many teachers are unprepared for the struggles of teaching, they are also dealing with the collateral damage of historical social policies which deeply impact the lives of many of their students.
"Yes we have systemic racism in this town. Yes we have white teachers who do microaggressions against our black students and kill their spirit," Warnecke said. "We also have violent children we are not servicing properly. Yes, we need more resources; Walker stripped our budget. Special education hasn't been funded in ten years. And our special ed numbers have grown, yes, with an overrepresentation of black and brown students. But where is the mental health support to handle the intersectionality of this issue, rather than the race issue?"
Changes in the Education System
All of this is backdrop to a job with a day-to-day intensity that is hard to match in other professions. To do their job well, teachers must keep an active pulse on how their own identities impact the learning experiences of their students in addition to struggling with the typical demands of modifying multiple lessons and assessments to meet the academic and emotional needs of a variety of students. At the same time, they have little say in the decisions made about how to go about their responsibilities.
Additionally, the education system changed dramatically when President George Bush passed his No Child Left Behind legislation in 2001.
"As a kid, I always heard that teaching is a nice profession to have when you have kids, and maybe that was true 25 years ago, but not now," said Crystal McParland, who has taught at East High School since 2013.
McParland said that teachers are not capable of achieving everything they are asked to do.  "I don't like the superhero reputation teachers have. The 'We can do anything.' We can do a lot, but one thing that is hard to reconcile, is you have to understand you're being an amazing teacher to one kid, a terrible one to another and a mediocre to another. And as class sizes have grown, that dynamic has grown."
Prior to 2001, there was no precedent for this in the history of American education.
"The old generation [of teachers] had no seismic shift." Waity said. "There was always the ongoing tension between building level and districts. But now there is less accountability to students because you're answering to someone with a rigid schedule. Now there are more district wide mandates."
No Room for Mistakes in Today's Hyper-Accountability Culture
Moreover, in today's current education culture, there is no room for mistakes.
Michael Jones, a special education teacher at Black Hawk Middle School, said, "Everyone is on blast. We preach to the kids it's okay to make mistakes, because if we make a mistake that's an opportunity to learn and grown, and that's true. But if we [teachers] make a mistake, stakes be high."
Jones was quick to say, there are some mistakes which do mean "you no longer have the privilege of teaching." But in a culture, and a profession, which demands perfection to make up for past mistakes, Jones said, "No one learns or grows from that. I feel like that's a system designed for failure."
This is particularly true when it comes to issues of race.
"When it comes to race, we are not allowed to flounder," Warnecke said. "When the incident happened at Whitehorse, teachers got scared. There was no real place holistically where we got to talk about it. Especially when we see the comments from the community, not only against the staff member, but against teachers in general. I know I can look at those comments and think, that's not me. But when its like, 'Nice job MMSD. Way to be white supremacists.' But it's like, you have absolutely no idea what is going on in our classrooms. You are not in our hallways. You are not watching me get consistently cussed out everyday by the same kid... You're not giving me anything to actually teach my kids to read."
Jones said that he sees the tradeoff administrators have to make between taking time to properly train staff on new systems and curriculum and the "more concerted and sincere effort to do certain things like racial equity and have those discussions."
While Jones said MMSD administrators do make time to talk about race, it is usually only surface level. "When it comes to getting uncomfortable, we don't have time for that, which is a dang shame. It requires making two choices. We can either dedicate some days to it, but it also means taking something off of teachers' plate. If we are going to require people to get in deep about race, we need to pull off on our discussion about standardized testing."
MMSD Responses
MMSD Superintendent, Dr. Jennifer Cheatham, has responded to MMSD's challenges in many ways, including replacing a zero-tolerance policy with a Behavior Education Plan, and backing the Pathways programs in MMSD high schools.
Many of the teachers I spoke with acknowledged the difficulty Cheatham faces in leading a school district undergoing a massive strain on resources. "She took helm when morale was so low because of Act 10 and changing demographics and our kids not being up to speed," said Coyne. "I don't think you can totally blame administration, but here's a woman with high ideals and good heart who wants to settle down with her little guy and husband."
However, that does not mean they believe district leaders are handling the strain well.
Kira Fobbs, who teaches at Falk Elementary, feels micromanaged.
"Especially the last six years under Cheatham, it has been a process where just about everything I'm doing as a teacher is being monitored and directed," Fobbs said.  
Jones said the voices of Madison teachers are not included in district-wide decision making. He said, "MMSD could be less top down if the leaders actually imbue some trust into all levels of the schools. I feel like there are some things where they are really holding on tight to the reigns in response to achievement gap and the school to prison pipeline. They can't trust people to get this right, so they push on it and make sure everyone is doing it the same way as opposed to, trust people to figure this out."
In a system rife with concern about results, Jones said there needs to be more  structures to empower teachers. "I feel like we need to empower more people to make more decisions, and then accept the consequences of that, but I think we will become a much more powerful district. Right now we have the accountability, but not any empowerment."
To support the needs of the growing of number of students of color in all MMSD schools, the district leaders released a Strategic Framework at the beginning of the 2018-2019 school year with "Black Excellence" at its core. However, while the initiative may have provoked conversation around race, teachers have yet to undergo any training around it. Once that happens, it may become more clear how teachers should act on it.
Until then, Jones said, "I feel like some people struggle with why we are doing this Black Excellence. Is it just to feel better and do some window dressing or are we interested in seeing and addressing a real problem in our community?"
Teachers Have Nowhere To Go But Out
All of the teachers I spoke to were preparing to leave the classroom or had done so at one point in their career. McParland has decided to leave teaching at the end of this school year even though she loves East High School.
She said, "There are so many things I love about teaching at East. My students ….don't put up with the bullshit. They don't put up with guilt and shame...so I love being there. If I were going to teach anywhere, I would stay where I'm at."
But teaching is no longer what it once was. MMSD is no longer what it once was.
"Madison is living on fumes of past greatness." said Coyne.
Children's futures are deeply shaped by the teachers they encounter. But teachers are the product of social policies and rarely articulated cultural expectations. Navigating the responsibilities of teaching is often a personal journey that leaves many convinced the best they can do is exit the system altogether.
As McParland said about her current role as a teacher, "I struggle with the difference between what I think it should be and with looking at how it is. And that space in the center, I can't reconcile with being ok with being a part of the system and it being how it is. I'm not making it better in a measurable way. All I'm thinking is, who do you save?"