A resolution was adopted in July at a City Council meeting that will transition Madison to a 100 percent renewable energy. Madison is one of three Wisconsin municipalities that adopted a 100% renewable energy goal. The other cities are Eau Claire and Middleton.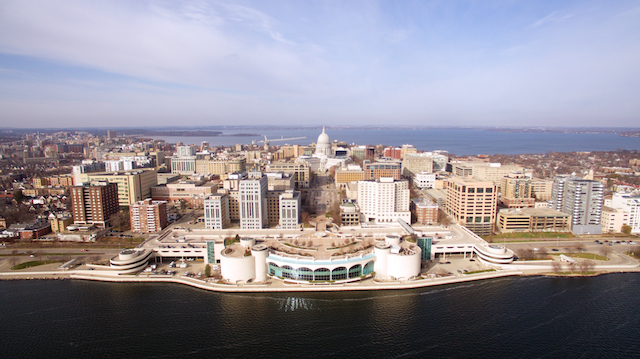 In 2017, Madison established a community-wide energy and carbon goal of 100 percent renewable energy and net-zero carbon emissions, and the city selected Sustainable Engineering Group LLC to provide a plan for city operations to achieve goals of 100 percent renewable energy and net-zero carbon.
The resolution allowed the city to enter a contract with OneEnergy Renewables, an independent developer of community and utility-scale solar energy projects across North America, with a focus on commercial, institutional and utility customers, for the annual purchase and sale of renewable energy credits (REC) from 2019 to 2023. The total amount for the five years will be about $1.4 million.
The recently signed contract between the City of Madison and OneEnergy Renewables will result in the construction of five community solar arrays totaling 14 megawatts (MW) next year.
The decision to provide financing to this project is the single largest commitment to date by a single Wisconsin customer to expanding solar capacity in the state.
According to OneEnergy Renewables, the five arrays should be in operation in mid-2020 and should produce more than a third of Dane County's consumption — about 20 million kilowatt-hours of clean electricity a year.
The quickest strategy to acquire new sources of renewable energy and to reach net-zero carbon goals is to finance community-scale solar projects and RECs, according to the proposed resolution.
RECs are tradable non-tangible energy commodities that represent proof of the generation of one megawatt-hour (MWh) of energy by a renewable energy facility. Financing community-scale solar projects with RECs is a cost-effective arrangement for large scale investments in renewable energy, according to the proposed resolution.
Madison's purchase of REC's is essential to the overall financing for OneEnergy Renewable's solar project. Though the power from the arrays will flow to five different municipal utilities, the agreed-upon purchase price will not, by itself, pay for the project's full cost. But with the additional revenue stream coming from the City's REC purchase, the developer should have no difficulty in securing outside investors to participate in the project.
"Through this creative arrangement, new community solar projects totaling 14 MW will move from the drawing boards out into the western Wisconsin landscape," said RENEW policy director Michael Vickerman. "At a remarkably low cost, the City will expand solar generating capacity in Wisconsin by 15%, and these new sources of zero-carbon power will provide tangible benefits to the City, the rural communities hosting these arrays, and our planet."
The Sustainable Madison Committee said under this contract, the city will be able to utilize RECs for the next 25 years. The City Council looked at five other cities, where RECs account for more that 75 percent of renewable energy as examples of the success of this strategy.
"Local governments including Boston, MA, Columbus, OH, Portland, OR, Forest County Potawatomi, WI, and Montgomery County, MD have all purchased RECs to meet ambitious emissions reduction goals," said the resolution.
The project is expected to increase solar capacity in Wisconsin by 15 percent, produce enough power for 2,500 households across the state, catalyze nearly $20 million in clean energy investment for rural areas and establish 70 acres of pollinator friendly habitat beneath the solar arrays.