On Tuesday, August 21, five startups will present at the sixth annual Forward Festival Startup Showcase at the Memorial Union in Madison. The showcase, part of an eight-day celebration of innovation and entrepreneurship called the Forward Festival, and features early-stage startups from the Madison area.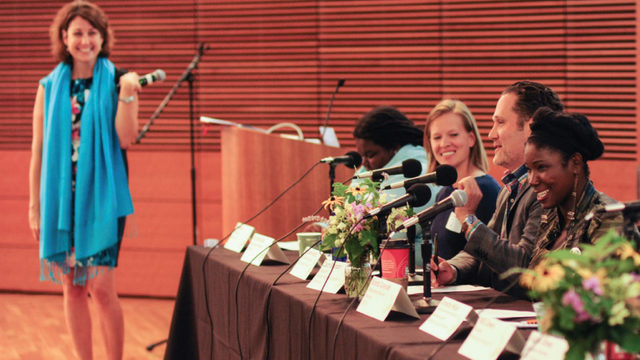 Each startup will have five minutes to pitch their business to an audience of business people, entrepreneurs and community members.
Forrest Woolworth, one of the organizers of the Startup Showcase, said they looked for startups that highlight a variety of different industries and stages.
"It's the best ROI [Return on Investment] of your time to see the exciting things happening in the Madison startup and tech community," Woolworth said. "Just for an hour you can see five new awesome companies."
This year, companies vary from construction protection equipment and services to job candidate evaluation software.
"There's a lot of newer companies that are doing interesting things in different spaces, and solving big problems," Woolworth said of this year's lineup.
More than 15 companies will join these five startups on stage as Startup Showcase "alumni" from past years. These companies will share recent successes in short, one-minute lightning round updates.
In determining which startups would present, Woolworth said event organizers looked at the market of each startup, as well each company's accomplishments, teams and leadership. The Showcase had more applicants this year than any previous year.
Woolworth's company, Capital Entrepreneurs, has organized the Startup Showcase since it began in 2012. The showcase serves as a capstone for the Forward Tech Conference, a day-long program designed for entrepreneurs to get perspective from technology startup leaders.
Laura Strong, the spokesperson for the Forward Festival, first got involved in the festival when she presented her company at the Startup Showcase. She said the openness and dedication of the startup community inspired her to get more involved.
"There's this sense of energy, passion, openness that draws me to it," said Strong, who presented her company, Quintessence Biosciences, at the Startup Showcase in 2013.
The Startup Showcase is one of more than 50 events organized by communities and organizations across Madison over the span of eight days, beginning this Thursday.
The Forward Festival, now in its ninth year, attracts over 5,000 attendees from a variety of fields, including business, technology, food, art and social entrepreneurship. The purpose of the festival is to build a culture that is supportive of entrepreneurship in Madison.
"Madison is a unique enough place that we should strive to be the best Madison that we can be," Strong said. 
This year's Startup Showcase companies are Moonshot Insights, YoEats, NovoMoto, UCHardChip and GrowthChart Records. For more information, including the full Forward Festival lineup, visit forwardfest.org.