It's Friday night on State Street. The street is packed with people celebrating the end of a long week. Music, chatter, shouts and giggles carry through the street.
Outside strangers exchange banter, which turns to accusations, and then yelling. Punches are thrown. An amused audience captures the drunken brawl on their phones.
Suddenly, a clopping noise, barely audible before, grows to a fever pitch. There, breaking through the crowds, is Cooper and Officer Ken Mulry to restore order.
Officer Mulry says the presence of the Madison Police Department Mounted Patrol, with their huge and sometimes intimidating figures, can quickly shut down drunken fights. Police horses are one of the oldest tools of policing. Even as policing becomes more reliant on new technology such as drones, Google Glass and biometric testing scanners, Cooper and the rest of the Mounted Patrol remain a vital asset to law enforcement.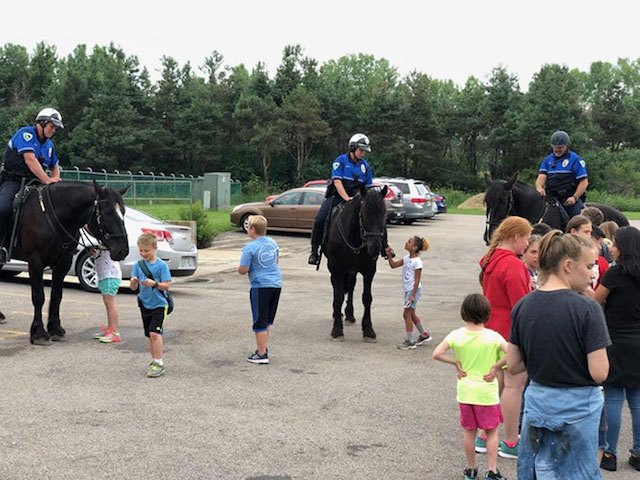 MPD has six horses in its Mounted Patrol unit. They range from 1,400 pounds to just shy of a ton. The oldest horse, Bubba, who is 16, has been with MPD since 2010; Chevy, the newest horse, joined the unit this year. From April through November, Bubba, Chevy and their four companions patrol the streets of Madison.
Horse have been used for policing in the U.S. since the 18th century. They began as a form of transportation and today primarily serve crowd control and public relations functions. Mounted patrols provide a traditional way to police crowds that avoids the challenges of adopting new technology.
As Chief of Police Michael Koval said in the 2018 police budget request, "It has become almost impossible for MPD to keep pace with necessary software improvements, technology upgrades and new innovations due to our budget restraints." Indeed, due to the quick pace of technological innovation, mounted patrols are a less risky investment for the department.
For MPD, the mounted patrol horses not only provide officers a perch to view crowds, but are also viewed as a public relations tools for the department.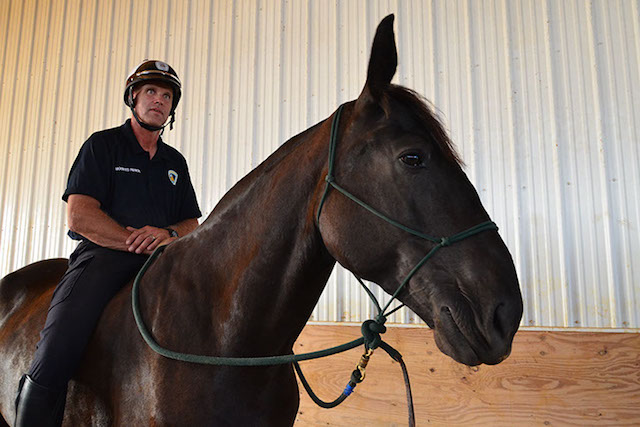 "If you saw an officer in a squad car, would you go walk over there and knock on the window and ask him about his car?" asked Officer Ken Mulry, a member of MPD Mounted Patrol of nine years. "The horse gives [people] a reason[to talk to us]. It breaks down the police-citizen barrier and it softens the officer."
Mulry says he gets more citizen contacts – positive ones – in one day on horseback than a week in a squad car.
"Nobody wants to pet a squad car," he said. "It's an inanimate object. It doesn't have a heartbeat. It doesn't have fur. It doesn't have cute eyes."
Interacting with and petting horses is just plain relaxing, according to Mulry. "They use horses for healing and for therapy, so we're doing that with people out on the streets all the time."
One role of the Mounted Patrol is to ride around neighborhoods and talk to community members. When they stop to talk to someone, Mulry says, everyone comes out. It helps neighbors meet each other and talk to one another.
"They're standing next to people they just didn't know, they never met. They had no reason for them to meet. Except we created one."
The primary use, however, of MPD Mounted Patrol is crowd management.
"People say, 'Why a horse?' I say, 'I'm nine and a half feet tall, I weigh about a ton, I got four legs,'" Mulry said. "I mean, people move. We need to get through, we can get in there. If there's a fight, we break it up and people scatter."
The number one advantage of using horses for this job is the height. Officers can see everyone, and everyone can see them. This also allows them to communicate easier: a blow of a whistle snaps heads-up and allows officers to communicate with the whole crowd.
"At any big event, you have your own stage," Mulry said.
Police horses can also save lives. MPD Mounted Patrol helps with missing persons searches and has found three people in recent years. Mulry said two of them would have died had Mounted Patrol not found them. On horseback, officers can scan the whole time during the search and not have to watch where they are going, so they miss less. The advantage of height again helps for a better view.
For tasks like these, Mulry says people often assume the horses are specially trained. Conversely, MPD's horses are trained the same way every other horse is trained. The difference between them and others is the environment in which they are trained.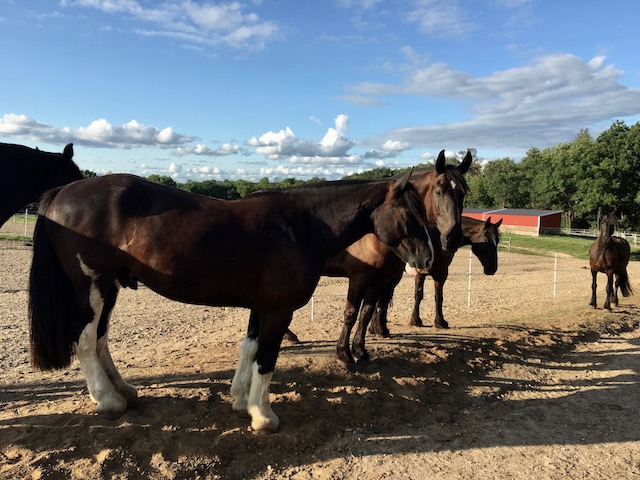 "We're asking for the same thing – to walk, to go sideways, to stop, to back... But we're doing it in a scary environment" which includes distractions of movement and noise like people yelling and flags flapping, he said.
Because horses are prey animals and get scared easily, the Mounted Patrol trains in baby steps so that the horses become comfortable in chaotic and loud environments. From the farm where they first start training, they are taken into Oregon and Verona to get used to a more urban environment. Later they go to the edges of Madison, then eventually to downtown, ready to take on State Street, Freakfest, Mifflin Street Block Party and other community events.
For police horses to do what they do in the environments that they work, it takes a lot of trust between the horse and rider. Mulry said the key for a successful relationship is for the officer to learn how to see the world as the horse sees it, which leads to the development of trust.
"It's kind of a meeting in the middle, and that's what allows our unit to do its job, Mulry said"
Like many relationships between animals and people, a bond forms between police horses and officers.
"The bond we have is one of mutual respect and a huge sense of responsibility on the officers because we are responsible for them doing their job," Mulry said. "It's not a bond where, you know, you have with your dog, where it's lying on your lap every night... But it still is a partnership, and you still love them and trust them and they trust us."