In an era in which the state has been strangling public transit agencies financially while prohibiting local areas from establishing regional transport authorities, there is a little-known existing state tax policy that could offer limited help called Tax Incremental Financing districts or TIFs.
However, TIFs are most often used to further the car-centric urban sprawl that has been bleeding cities financially rather than bolstering them with socially and environmentally sustainable transit-oriented development. Instead of using TIFs to draw residents into Madison from nearby, it is being used to drive people away and to further weaken its tax base. That is not the intent of course, but it is what it is going on.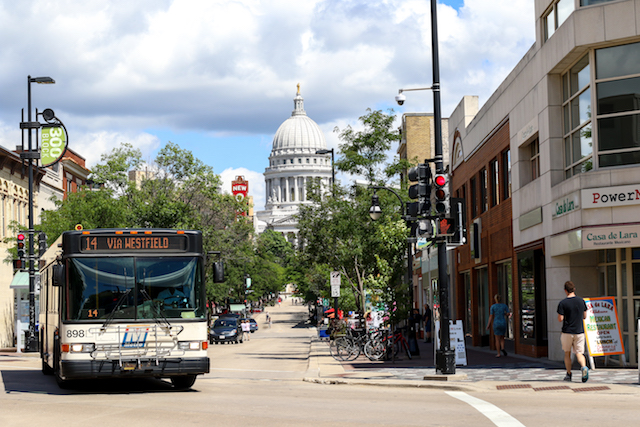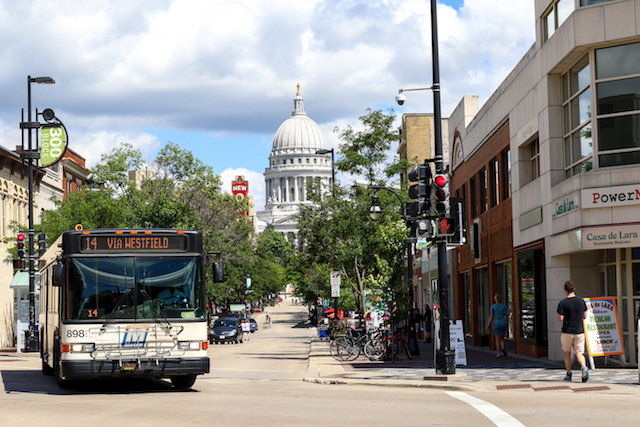 Madison and other municipalities around Wisconsin are using TIF money to build expensive infrastructure – including parking lots and wide roads – that it cannot afford. Most middle class workers will 'drive until they qualify' and then use, but not pay for, Madison's infrastructure. They will drive in to work and park, using roads and parking lots constructed with TIF money, but they will reside, buy their groceries and pay their taxes in neighboring municipalities. In a city whose housing stock is already known for its "missing middle," Madison's TIF policy just compounds rather than lessens the flight of a working and middle class that it professes to want to keep.
Theoretically, TIFs are an economic development tool that enables local governments to capture a portion of property tax revenue. The municipality freezes a parcel's assessed taxes, then borrows the awarded TIF money with the expectation that the result will be a net gain in revenue and the tax base. TIFs could therefore help develop and maintain public transit IF public transit were seen as the major economic development tool that it is.
For instance, one could imagine infrastructure improvements that would help make an area more appealing to a transit user and others that the value of having property in the area (both land and improvements on that land) would rise along with the city's tax base. People would want to work, recreate, shop and live there, and would be willing to pay to do so. At the same time, the net financial cost to any individual resident would be less because use of land would be more efficient. Among other things, people would not need to rely on cars. Transit stops would be accessible, safe, well-maintained, located intelligently and with such amenities as benches and shelters (even heat-controlled ones?). People forced to drive would be pitied.
That is not what the TIF people are thinking about of course. Rather, as reported in the a report about a TIF district in Madison, TIFs allow funds to be used to reduce the cost of site acquisition or site improvements including the construction or razing of buildings, parking facility construction, site preparation, environmental remediation, landscaping and similar types of related activities. The report does not mention transit facilities.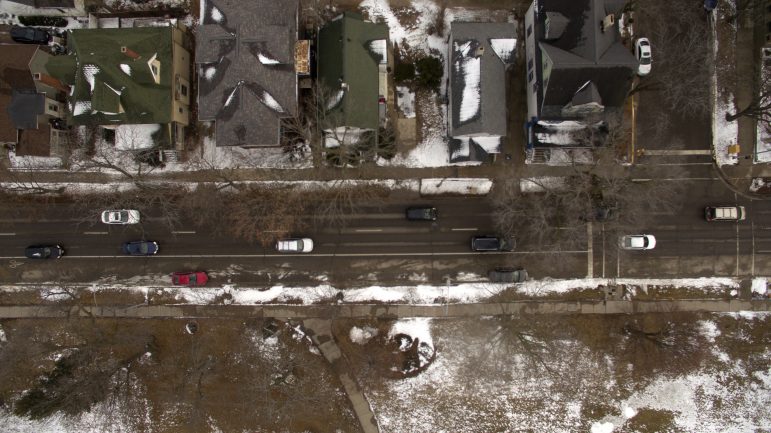 But even if a more transit-oriented scenario made sense, what figures would be entered into a spreadsheet when assessing the generative value of installing any particular transit-related infrastructure item?  Managers of TIFs have to be able to justify their decisions and recommendations in terms of dollars and cents, even if they can use a certain amount of non-monetary reasoning. They are not transportation planners.
Managers of Madison's TIFs are also limited to considering capital costs related to taxable features. That rules out using TIF money for public facilities such as bus barns or intercity terminals. But TIFs could be used for such infrastructure items as street lights; travel, parking or bicycle lanes; walkways; bus pads; benches and bus shelters (buses themselves are not eligible under the state definition of 'capital' expense). Less than ideal, this could still be of considerable value given the paucity of even basic transit-related amenities.
Unfortunately, most transportation planners seem only now to be coming cognizant of something established decades ago as an economic development tool. They could not and did not advise plan commissioners or others about TIF funding. In contrast, City and traffic engineers and plan commissioners have been well aware of TIFs, and have used these funds under the mistaken belief that sprawl and parking bring net increases to the tax base.
A development tool that was originally intended to upgrade blighted city areas has now become a standard tool for the supposed development of mixed-use and industrial districts.
One of many examples of the use of TIFs in Madison concerns Tax Increment District (TID) 46. This is a "mixed use district" originally established in September 2015 on Madison's Near West Side roughly between Mineral Point Road and Tokay Boulevard west of Whitney Way, sometimes referred to as Research Park.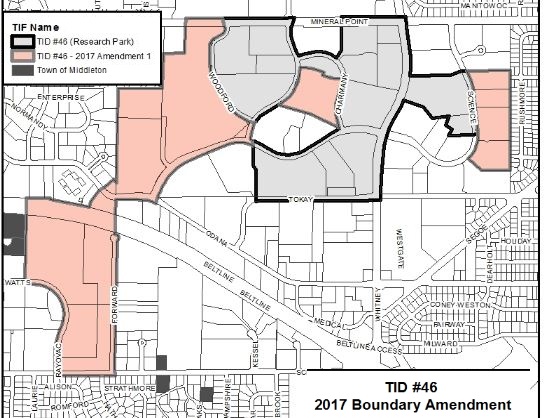 Although the area abuts the West Transfer Point and has some of the best bus service in the city, the office buildings also have huge surface parking lots where anyone can park free of charge. Nor, given the area's proximity to the highway and major roads, do the employees necessarily reside and pay taxes in Madison.
Even so, the original boundaries were expanded last Fall through an amendment by Alders Maurice Cheeks and Mark Clear to include a former Spectrum Brands site at 601 Rayovac Drive.
In the report of that amended district, the proposed project costs would include up to $3.4 million in funds. It reported that no public works improvements, community revitalization activities, land acquisition, or affordable housing were planned or could be itemized for TIFs at the time.
How does Metro's own transportation planning fit in? Not to ask for more transit-oriented infrastructure in the "development" plans. Not to ask that employers help fund better transit service to their new location. Rather to change the routing of an existing peak hour bus. Metro's impending proposed 'service' changes would reroute the #58's meandering to Watts and Rayovac Dr. to accommodate Exact Sciences. It can and should do better than that.