The Wisconsin Veterans Museum's latest traveling exhibit, I Am Not Invisible, was unveiled Thursday with speeches from Governor Tony Evers and Salute the Troops Wisconsin executive director Kim Galske, highlighting a celebration of the state's large veteran population.
On display at the Wisconsin State Capitol rotunda until Nov. 15, the photo-gallery-style exhibit highlights notable women veterans from Wisconsin, as well as the unique challenges and experiences of serving our country as a woman.
Galske wears many hats and one crown: she is current Mrs. Wisconsin, and a mother, and a former Marine.
Galske, currently the executive director of Salute the Troops Wisconsin, recounted how she struggled with her transition to civilian life following five years of service. Eleven years ago, she was homeless with a child. Now, she uses her various platforms to advocate for herself and her fellow veterans.
"I challenge you to think bigger, and know that the broken are broken for a reason, because that's the only way the light gets through," Galske said. "This crown is not for me. It's for the veterans. It's for those too afraid to speak too afraid to ask for help, the ones that didn't come home, the ones that are sitting home alone."
"Women who enlist often face unique challenges...whether it's being overlooked for promotions, or dealing with sexual harassment, or having their service attributed to their husbands, women in the military overcome a lot of challenges and significant barriers in a field historically dominated by people who look like me," Evers said. "Their experiences and their stories deserve to be told."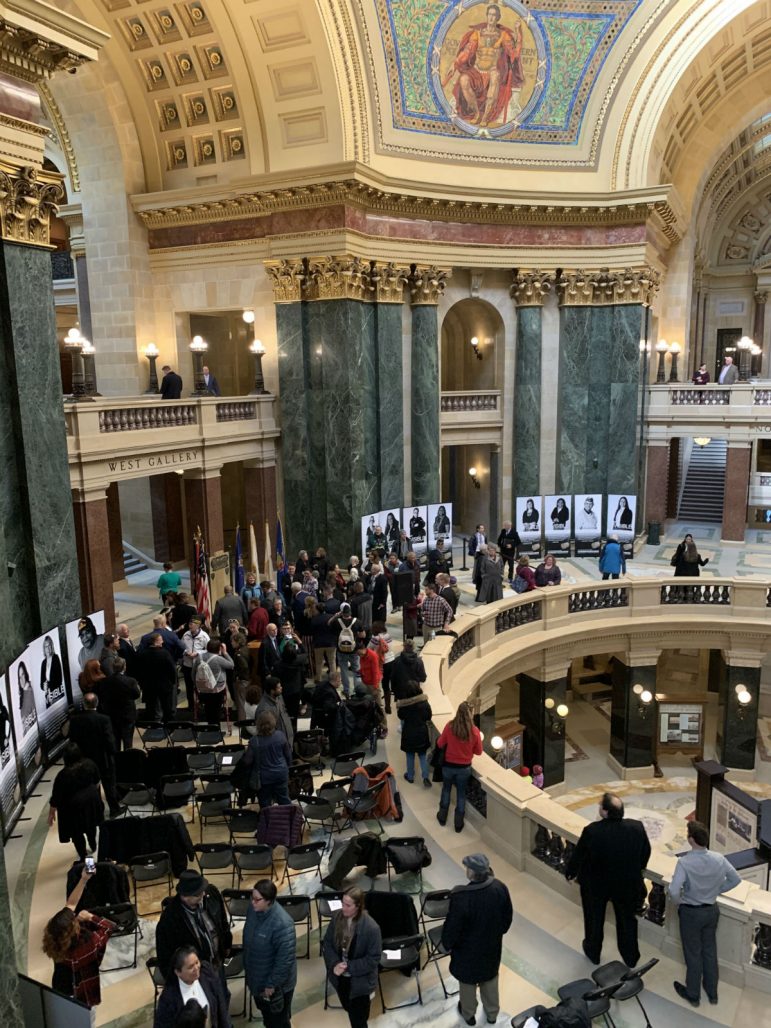 Among the women featured in the exhibit is Anna Robertson, a member of the first WWII battalion of African American women. Another is Kimberly Ellen Stuart, the first female Electromechanical Team Chief, her display noting that she "didn't realize" how big of a deal this advancement was.
Large panels with testimonies and portraits of these two, alongside 30 other women warriors, stand tall and strong like them — showcasing their bravery and service for all visitors to see.
In Wisconsin alone, there are nearly 29,000 women veteran residents — around eight percent of our total veteran population. Despite this magnitude, these women are often met with less-than-ideal conditions, both while serving and upon returning home.
For example, according to the US Department of Veterans Affairs, one in four women seen by the VA's healthcare system mentioned experiencing Military Sexual Trauma (MST). MST has lasting psychological effects on the victim, and repeated sexual harassment or assault impacts all folks differently. Other types of PTSD, differing cultural norms surrounding femininity, and lacking post-transition support from civilian women may also serve as challenges for women who have served.
Yet, Evers and his administration say they are committed to serving this frequently underrepresented and underserved demographic.
Declaring June 12 Women Veterans Day, appointing the first female WDVA secretary, offering grants totaling over $400,000 for veteran entrepreneurs, and pardoning an Iraq vet are among the tangible actions taken by Evers in hopes of building a relationship of trust and accountability between the state and veterans.
As Galske mentioned, not all of these women's stories are packed full of grandiose comebacks or newfound stability.
Wisconsin veterans, on average, have less educational attainment and, potentially as a result, lower incomes, compared to the American average for veterans. This further exacerbates other potential barriers to a smooth transition home from service — finding employment, housing, and other social services — and has led to these challenges often unnoticed by the civilian public.
That is the point of this exhibit, after all: to increase awareness of what our veteran population, particularly this already-marginalized group of women, are up against both during and upon return from service. These women are no longer invisible; their faces plastered across the marble walls, their stories waiting to be read and heard, and we must listen.
I Am Not Invisible will be available for free rental by libraries, schools, and the like upon completion of its showing at the Capitol. To request the exhibit or to learn more, visit the Wisconsin Veteran Museum's website.