For those looking to make the most of Madison's mild weather before winter strikes, the map below pinpoints 13 public murals around the city center.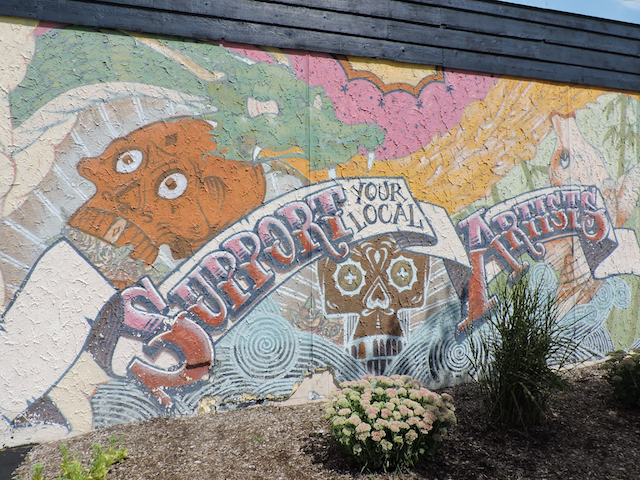 PUBLIC ART
With your help, this interactive public arts map can be an ongoing project. If you know of any other murals in the Madison area, please email madcommartsmap@gmail.com. In your submissions, please provide any or all of the following: mural title, artist, year, address/location, a brief description and a photo.
EXHIBITIONS
Chazen Museum of Art
Life, Love & Marriage in Renaissance Italy
August 3—November 3, 2018
Featuring a collection of Italian marriage chests from the 14th to the 16th centuries, as well as panel paintings, fabrics, and other household objects from the period, the exhibition will "explore the social and practical functions of these important objects."
Iceland's Vanishing Beauty: Photography by Michael Kienitz
September 14, 2018—February 3, 2019
A series of photographs by Madison photographer Michael Kienitz reveal the varied landscape of Iceland's Vatnajökull National Park.
Madison Museum of Contemporary Art (MMOCA)
August 18—November 11, 2018
MMOCA shows a collection of contemporary Chicago artist William J. O'Brien's unique works, which combine many different techniques and materials. The exhibition, overall, "translates notions of the spiritual and secular into a contemporary art context."
May 4—December 31, 2018
Artist Meg Mitchell's sculptural piece Tenacious Numismatic Hops Exchange: a hop garden for unyielding people, installed at MMOCA in spring of 2017, grew into a collaborative project between her, the museum and Octopi Brewing of Waunakee, Wisconsin. The group's combined efforts have yielded a line of craft beers and other beverages.
October 12, 2018—February 24, 2019
Belonging to MMOCA's permanent collection, Pitahayas by renowned artist Frida Kahlo will soon be on view, in partnership with Google Arts & Culture's Faces of Frida project.
Lakeside Street Coffee House
September 28—November 9, 2018
As part of Mental Health Awareness Week, October 7—13, Wisconsin's National Alliance on Mental Illness (NAMI) organizes an annual art show, featuring work by artists who have struggled with mental illness. This year, the show will be hosted by Lakeside Street Coffee House.
SCREENINGS
October 3, 10, 17, 24; November 7, 28; December 5, 2018; 7—9 PM
On most Wednesday evenings this fall, MMOCA will be showing "critically acclaimed and award-winning" films. The series begins with the feature film Skate Kitchen on October 3.
Madison Public Library Screenings
Various dates, times, locations
In the coming months, Madison's multiple public libraries will be showing a number of films, from popular contemporary features to documentaries and anime films.
PERFORMANCES
Various dates and times
The community art center organizes poetry readings, showcasing both amateur and published writers, and musical performances every week this fall. On the last Sunday of every month, the venue continues its "New Music Series," which "features some of Madison's finest jazz musicians."
Various dates and times
Featuring civil rights activist and podcast host DeRay Mckesson, who will lead a conversation on social justice, folk music duo The Indigo Girls, illusionist Rob Lake and author Anne Lamott, who will participate in a Q&A and book signing, the Orpheum's fall schedule offers a diverse entertainment selection.
Various dates and times
The Majestic's fall schedule is equally diverse, with performances by alternative rock band Blue October, electro-indie pair Cherub, and heavy metal band Machine Head, among many others. On October 20, the venue is also hosting a Hocus-Pocus-themed drag show.
The Overture Center for the Arts
Various dates and times
Shows by local performers the Madison Symphony Orchestra, the Madison Opera, Kanopy Dance Company and the Madison Ballet are sprinkled throughout the Overture Center's fall schedule, but some non-local highlights include Broadway hit Something Rotten!, saxophone legend Kenny G, National Geographic Live: Life on the Vertical and The Simon & Garfunkel Story.
FESTIVALS/SPECIAL EVENTS
Creating Compelling Characters Workshop (Arts + Literature Laboratory)
September 24—November 2, 2018
Published author Garrett Riggs will help workshop attendees create their own fictional characters.
Gallery Night (MMOCA)
October 5, 2018; 5—9 PM
Local businesses, community centers and art galleries throughout the city will not only display a variety of visual artworks, but also offer lectures, live music and other forms of entertainment.
Latino Art Fair (Overture Center for the Arts)
October 6, 2018; 5—9 PM
This free event celebrates Latino culture by showcasing art, crafts and performances by individuals in the local Latino community.
November 17, 2018; 10 AM—6 PM
November 18, 2018; 10 AM—4 PM
Nearly 100 arts, food and specialty gift vendors from around the United States will be set-up inside MMOCA for visitors to kick off their holiday shopping. The event will also offer live music and other special performances.