"You are brave," "You are worth it," "Breathe," "Create;" these are a few of the uplifting words and phrases that adorn Mount Horeb High School's new mental wellness mural.
After witnessing the effects of mental illness on peers, a group of seniors at Mount Horeb High School wanted a to create a mural with the power to soothe, uplift, and give hope. Between March 19 and 23, Dane Arts Mural Arts (DAMA) assisted 1,000 students, as well as many community members, in fulfilling that artistic vision. An official mural dedication will be held at the school on May 8.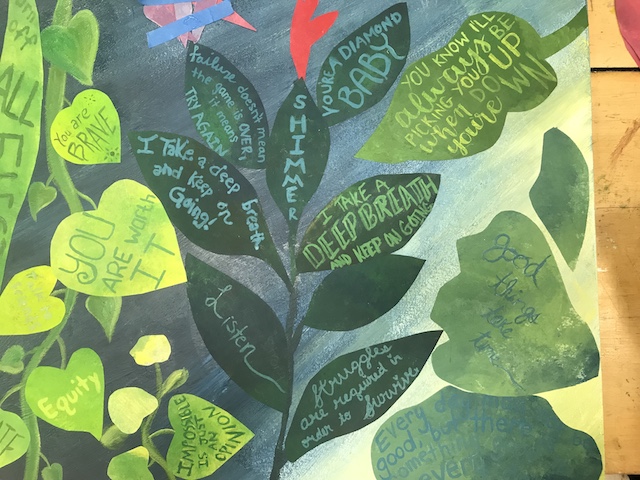 Lead artist Amy Zaremba was touched by the project's overwhelming support and said the turnout of volunteers was "really amazing."
"And the kids didn't just come here and sit around," Zaremba added. "They actually participated and they wanted to be a part of it."
Since 2012, an increasing number of local students have been affected by mental illness. Common disorders such as anxiety, depression and anorexia can negatively impact a student's academic performance and their daily interactions with peers.
One in five Dane County high school students have had suicidal thoughts in the past 30 days, and nearly the same amount of students suffer from long-term anxiety, according to the 2015 Dane County Youth Assessment Report.
Directly addressing suicidal thoughts can be one of the best ways to support those experiencing them, according to Andrea Lawson, co-director of mental health services at University Health Services.
"Many people who are experiencing thoughts of suicide feel isolated, alone, stuck, and unable to change their feelings or situations, so talking about it can reduce those feelings of isolation," Lawson said.
Recognizing the challenges that many students face, Mount Horeb High School teachers and staff were supportive of the seniors' proposed mural project from the start.
"We're here for all kids, all people," high school principal Michael Werbowsky said. "And as a community, it is our responsibility to support one another."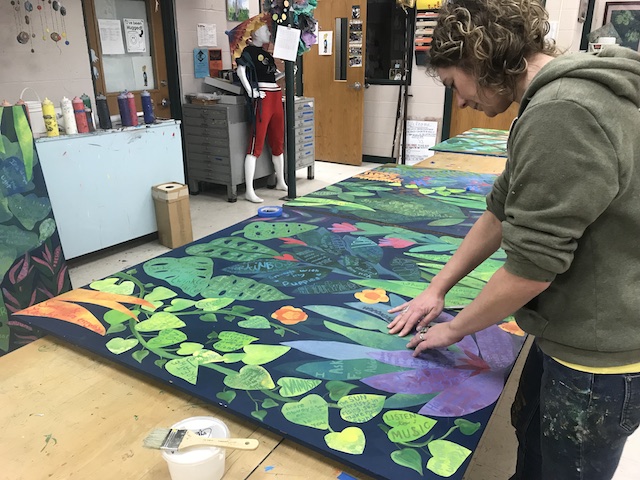 Caption: Lead artist Amy Zaremba puts finishing touches on the mental wellness mural. Photo: Erin Green.
The finished mural consists of eight 4-by-4-foot square panels, which together create a larger jungle image. Colorful foliage stands out against a dark background on the left, while sunlight shines through trees on the right.
"All of it is meant to kind of make you feel good," Zaremba said. "If you get close, you read the quotes and those uplift your spirit, and if you step away, you have that sunshine and plant life to…lift your mood a bit."
Zaremba said DAMA's design process is "always collaborative." A few students shared the quote "I lift my chin and embody the light," and that became the artists' thematic inspiration. Ideas were also extracted from student design sessions in the high school's advanced art classes.
The mural will not only act as a source of visual beauty and positivity for students – it will also point toward helpful resources. A list of websites and the contact information of mental health professionals will hang beside the mural for students to utilize at any time.
Caption: Each mural piece will be hung in a separate classroom until the school's upcoming renovations are complete. Eventually, the full mural will hang in a new common space. Photo: Erin Green.
Werbowsky sees this mural as an important step toward removing the negative stigma that often surrounds mental health, and he hopes it will inspire other schools to start similar conversations.
"We're here as a school community trying to support one another, reaching our fullest potential, and that really, really helps define what it means to be a community," Werbowsky said. "And if this can help other schools get to conversations, support…[and] strengthen our understanding and connectedness to our well-being, great."